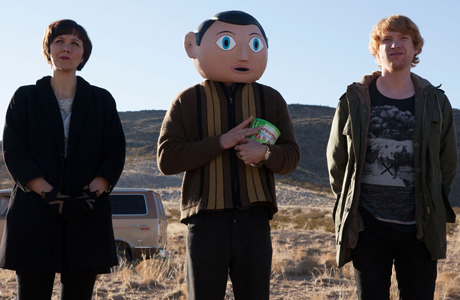 This might just be the most eccentric trailer you've ever seen, for a movie that is clearly no less odd.
Frank is the story of a visionary band leader and the gang of musicians he recruits and trains for ultimate success. In this regard it's a bit like The Commitments, except no one in The Commitments went around Ireland with a big papier mache head on, looking like the cult British entertainer Frank Sidebottom except with an American accent.
It's also the story of Jon (played by About Time's Domnhall Gleeson), one of Frank's inductees into this strange cultish band, who glory under the name Soronprfbs. Jon has been using the internet to get his band gigs, and eventually they're offered a showcase at South By Southwest.
Here is that trailer. Keep an eye out for Maggie Gyllenhaal as the cold, aggressive Clara, and of course Michael Fassbender's shoulders, torso and limbs as Frank:
And here's a clip of the band's intensive training system:
Frank is released to UK cinemas on May 2nd, but will of course be available online in the fullness of time. And let's face it, you're going to want to find out what on earth it is all about.
See more:
What Has Michael Fassbender Got On His Head?
Five Great British Oddballs
WATCH: Michael Fassbender Spends Entire Movie Inside a Big Fake Head
Read More
Filed Under: