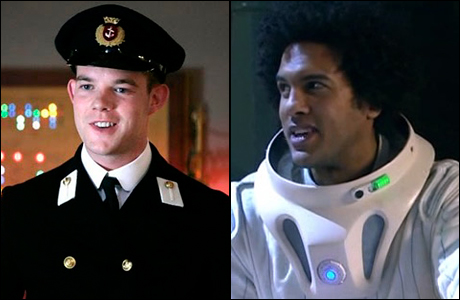 Doctor Who might not be the first thing to come to mind when watching HBO's latest hit Looking, a San Francisco-set dramedy about three gay male friends seeking love in often comically dysfunctional ways. But the series, which just received a second season renewal, has a strong U.K. pedigree—creator Andrew Haigh is British and wrote and directed the English gay indie Weekend—and some familiar faces for Whovians.
On Looking, Russell Tovey, formerly Being Human's George the werewolf, plays Kevin, the new British boss (and seeming potential love interest) of video game designer Patrick (Jonathan Groff).
But Doctor Who fans will recognize him as Alonso, the midshipman who boarded "The Voyage of the Damned" and, later, became the target of Captain Jack Harkness' (John Barrowman) flirtations.
While Tovey uses his native accent on Looking, viewers may be much more surprised to discover actor O.T. Fagbenle's London roots. He plays Frank, the witty and ostensibly American boyfriend of Agustín (Frankie J. Alvarez).
But the now-shorn Fagbenle sported a curly 'fro and his home accent when he played Other Dave, one of River Song's (Alex Kingston) ill-fated cohorts in Doctor Who's Season 4 two-parter "Silence in the Library" and "Forest of the Dead."
On Looking, Tovey has been promoted from recurring character to series regular, ensuring we'll see quite a bit more of him when the show returns. Fagbenle's future on Looking seems a bit more up-in-the-air, but the RADA-trained thespian was recently named one of Backstage Magazine's 30 Actors to Watch.
See more:
Russell Tovey on the 'Doctor Who' 50th Anniversary
Steven Moffat: "'Sherlock' and 'Doctor Who' Are Obtusely British"
WATCH: Jenna Coleman and 'Doctor Who' Newcomer Samuel Anderson Have Shared the Screen Before!
Read More
Filed Under: