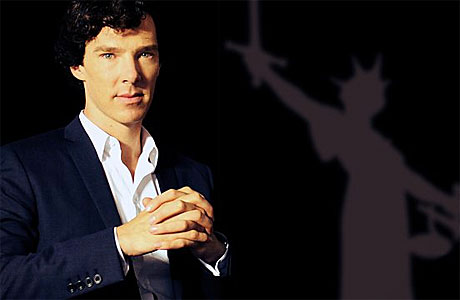 This week, Benedict Cumberbatch has been putting that marvellous voice of his to good use by returning to a part that he has made his own over the past few years. He's a campaigner for justice, a much-loved literary hero jumping straight out of the pages of a cherished series of books.
No, not Sherlock Holmes, it's Horace Rumpole, the barrister popularly known (in the U.K. at least) as Rumpole of the Bailey, the star of John Mortimer's long-running courtroom TV series and subsequent books and radio plays.
Benedict has been playing the young Rumpole for BBC Radio 4 since 2009, and there's a new run of stories being aired at present. They will all be available internationally on the BBC iPlayer, and the first—Rumpole and the Old Boy Net—is available now, for a Friday afternoon treat.
(Note: it won't last forever)
To set the scene: it's 1964, Rumpole and his wife Hilda are looking for schools for their son Nicholas, and debating whether he should become a Q.C. in order to pay the fees. Meanwhile, there's a drama in the court, an accusation of blackmail, and a lot of people staying loyal to their old school chums.
See more: 
Benedict Cumberbatch Makes The Wish-List For 'Frozen 2′
Mr. Selfridge Takes a Dig at Sherlock
VIDEO: When Benedict Cumberbatch Photobombed U2
Fill In The Blanks With Benedict Colorbatch
Read More
Filed Under: