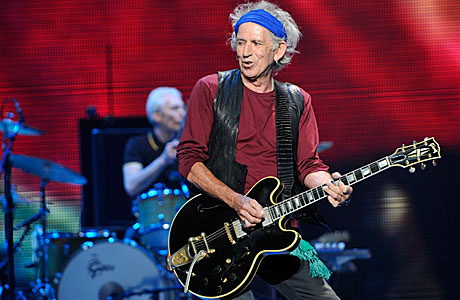 Keith Richards has already written one version of his astonishing story—Life; the one rock 'n' roll fans wanted him to write, with heavy emphasis on his musical endeavors, his wild times with the Rolling Stones and his preposterous drug intake. That one was for the grownups, and two million of them bought it.
His second book promises to be a far gentler affair: Gus and Me: The Story of My Granddad and My First Guitar is the tale of the first time young Keith picked up what was to become his chosen instrument, having been encouraged to do so by his grandfather, the jazz musician Theodore Augustus Dupree.
And as it's a family story told from a child's perspective, he has asked his daughter, the familially-named artist Theodora Dupree Richards to illustrate it for children, reading for publishing in hardback and ebook form later this year.
Keith told BBC News: "I have just become a grandfather for the fifth time, so I know what I'm talking about."
"The bond, the special bond, between kids and grandparents is unique and should be treasured. This is a story of one of those magical moments. May I be as great a grandfather as Gus was to me."
For her part, Theodora added: "To be able to explore my father's relationship with his grandfather was a gift in itself. The things that I've learnt during this whole process have just been life affirming."
See more:
10 Baddest Brits In History (Or Popular Legend)
FULL Rolling Stones Reunion (Within Reason) At Their London Shows
LISTEN: Rolling Stones Latest Single 'One More Shot'
Happy 50th Birthday, The Rolling Stones!
Read More
Filed Under: