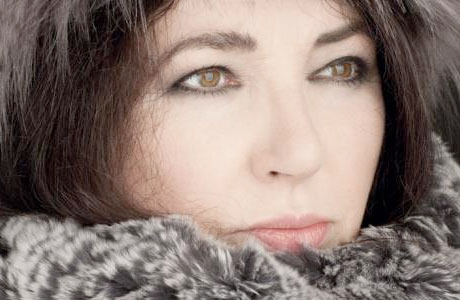 Now here's a news story no one could have predicted coming anytime soon. The reclusive genius pop star Kate Bush, who has not made a live concert appearance in her own name (cameos excepted) since 1979, has announced she will perform 15 concerts at London's Hammersmith Apollo, later on this year.
The show even has a proper theatrical title—Before The Dawn—and will commence on August 26. Whether by happy accident or design, the last concert Kate performed of her one solo tour to date was also at the Apollo, which was known as the Hammersmith Odeon at the time.
It's not currently know what form the shows will take—all-new material, greatest hits, a theatrical presentation—but they'll be worth attending on scarcity value alone.
Tickets go on sale at 09:30 GMT on Friday, 28 March, and yes, we are telling you about this so that you can make travel plans. Some things have to be seen to be believed.
For more information, check out www.katebush.com
See more:
PICTURES: Kate Bush Takes Her CBE From The Queen
 A Guide To Kate Bush's Albums
Kate Bush Week: Her Five Best Videos
Five Great British Literary Songs
Read More
Filed Under: