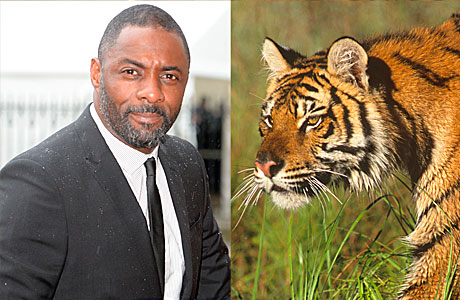 So, if you were casting voices for a live-action version of The Jungle Book—based on the original stories by Rudyard Kipling, not necessarily the all-singing and essentially unimprovable Disney cartoon version—who would YOU get to play Shere Khan?
It would have to be someone with a cat's sense of cruel indifference and half-interested malice—a Brit, obviously—and someone with languid coldness snoozing in his warm purr; someone who can be enormously charming and yet terrifying at the same time.
That's right, you'd want Benedict Cumberbat…er, Idris Elba.
And according to Deadline, Idris is close to signing the deal that will add his voice to a digimated tiger in jungle that is half real, half created by a team of hugely experienced special effects technicians and animators.
Jon Favreau is directing, with the script coming from a team lead his fellow Iron Man alum David Lowery.
No news on the other animal parts as yet, but they should at least consider Tom Hiddleston for Kaa and Martin Freeman for the long-suffering Bagheera.
See more:
Idris Elba Creates a Global Man Panic
Idris Elba Responds to 'I'm Sorry I'm Not Idris Elba' Poem
Top Gear Thursday: Watch Idris Elba Host His Own Car Show
Idris Elba: "Don't Call Me The Black James Bond"
Read More
Filed Under: