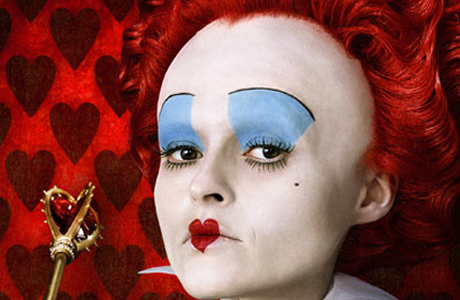 Helena Bonham Carter (Les Misérables) is set to revise her role as the Red Queen in the sequel to Alice in Wonderland, reports Variety.
James Bobin (Muppets Most Wanted) will direct the sequel, Through the Looking Glass, taking over the helm from Tim Burton who directed the remake of Lewis Carroll's story in 2010. Linda Woolverton, who wrote the screenplay for Burton's film will be making her return.
Bobin talks about taking on this project and adapting Carroll's work saying, "In England he's this incredibly influential, basically comedy writer. Lewis Carroll is known as a fantasy guy, but if you read the book as an allegory of the world or satire on the world and how it worked in those days, you can trace like Lewis Carroll to Monty Python; they're part of the same family to me," reports Collider.
Johnny Depp and Mia Wasikowska are signed on, but the rest of the cast has yet to be announced.
Alice in Wonderland did pretty well at the box office (understatement), taking in more than a billion dollars worldwide. A sequel was expected, so this news isn't too surprising, but it was a matter of when.
Through the Looking Glass is scheduled to hit theaters on May 27, 2016.
Bonham Carter is currently filming Suffragette opposite Carey Mulligan and Meryl Streep, which comes out on January 16, 2015. She has completed filming Cinderella, in which she plays the fairy godmother. Cinderella comes out on March 15, 2015.
Are you excited Helena Bonham carter will be back as the Red Queen?
See More:
Brit Binge Watching: Five Helena Bonham Carter Films You Can View Online
Helena Bonham Carter Relishes 'Playing Weird Women'
Helena Bonham Carter on Cover of Vogue UK's July Issue
Read More
Filed Under: