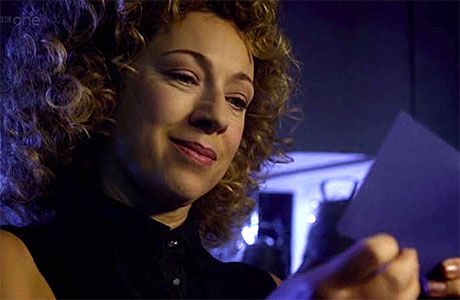 Today is Alex Kingston's 51st birthday (it's also John Barrowman's 47th, and neither of them look a day over 30, the swine), which gives us all the excuse we need to look back over her remarkable time at Doctor Who, and marvel at all of the tearjerking, laugh-jerking, flirty and psychopathic things she got to do.
Frankly, there's enough stuff to fill a list five times as long as this one, but here's just a few selected highlights, starting with her catchphrase:
"Spoilers"
"I hate you"
It crops up a lot, usually following something obscenely arrogant from the Doctor, but this is a particularly fine example, or pair of examples…
"Time can be rewritten"
Another recurring line, one in which this time-struck couple try to cheat their own destinies in the face of rotten luck. Naturally they can't, but who could blame them for trying?
"Hello Sweetie"
Who knew two words could carry such a multiplicity of meanings. And my WORD that farewell was a sniffler.
Kissing
Clearly dating a man out of sequence is far more complicated than you'd think.
Daring escapes
The dive into the TARDIS swimming pool was particularly inspired, but this takes the (birthday) cake for flirting in the face of disaster. I mean literally flirting.
Telling the Doctor off
All the companions have a go at this from time to time, but who's better to bring you up on your shortcomings than your significant other?
Bigging the Doctor up
It's not all rolling your eyes and tutting though. Sometimes it's nice to be nice.
The First Goodbye
The Second Goodbye
And finally this, because AWW:
Oh and remember when she won last year's Anglo Fan Favorites Woman of the Year?
See more:
Alex Kingston and The Whovian Reunions
WATCH: Alex Kingston Has a Message for Anglo Fan Favorites Voters!
Alex Kingston Reads 'The Angel's Kiss' By Melody Malone
Read More
Filed Under: