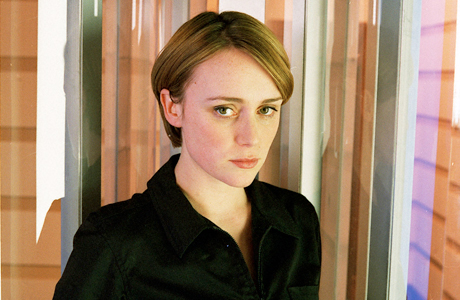 Keeley Hawes is set to grace Doctor Who in all of her sinuous glory in Season Eight. But longtime viewers of British TV can say we knew her when. (And Hawes has worked with several Whoniverse alumni in her time, including Paul McGann in 1998's Our Mutual Friend, John Simm in a 2003 episode of The Canterbury Tales, and Alex Kingston in the 2010 revival of Upstairs Downstairs.)
Here are five Keeley Hawes roles you should catch up on via Amazon, Netflix, and Hulu before Who returns later this year.
1. Tipping the Velvet (2002)
In this sexy adaptation of Sarah Walters's Sapphic romance set in the 19th century, Hawes played a male impersonator who falls for her performing partner (Rachael Stirling, who co-starred with mother Diana Rigg in Doctor Who's "The Crimson Horror").
(Note: Tipping the Velvet featured an early performance of a young Mr. Benedict Cumberbatch.)
Watch Tipping the Velvet on Amazon Instant Video.
2. Spooks (a.k.a. MI-5 in the U.S.)
This briskly paced series about British counterterrorism agents was the U.K.'s answer to 24. Hawes was a sensation as an original member of the MI-5 ensemble, alongside future film stars like David Oyelowo and the man who would become her husband, actor Matthew Macfadyen. (The couple will celebrate their 10th anniversary in November.)
3. Under the Greenwood Tree (2005)
Hawes was a comely head-turner in this adaptation of Thomas Hardy's 1872 novel: she played Fancy Day (nice name), a new schoolteacher who arrives in a small village and immediately attracts three suitors (James Murray, Ben Miles, and Steve Pemberton).
Watch Under the Greenwood Tree on Netflix.
4. Ashes to Ashes (2008-2010)
Doctor Who won't be Hawes' first experience with time travel: she was jettisoned back to the '80s as cop Alex Drake in Ashes, the sequel to the '70s-set Life on Mars starring John Simm.
5. Upstairs Downstairs (2010-2012)
In this sumptuous revival of the popular '70s serial, 165 Eaton Place found itself in the hands of new owners: Sir Hallan Holland (Ed Stoppard) and his wife Lady Agnes (Hawes).
Watch Upstairs Downstairs on Hulu.
See more:
Five Tilda Swinton Films Available Online to View
Five Jack the Ripper Films You Can View Online
Read More
Filed Under: