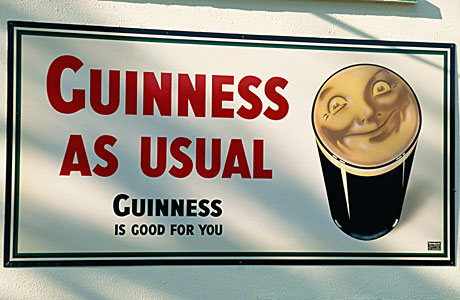 This Monday is St. Patrick's Day, a chance for Irish people to celebrate Irishness and for people who are not Irish (even by descent) to pretend that they are. Things that are not usually green will be made green. Things that do not normally sport shamrocks will suddenly look very lucky indeed, and there will probably be some drinking and some singing.
This is as true in London as it is in New York, but some Irish cultural exports have become so valued by the Brits that they will cling on to them, and celebrate them all year round.
Here are five examples:
Stout Porter
Porter is a London drink. It was invented in London in the 1720s. And while purists will tell you that these days the only good stout is the one you can get in a proper Irish bar in Ireland, that hasn't stopped British pubs stocking not just Guinness but Murphy's and Beamish too, and any local variety they can get their hands on—the Youngs brewery in London made a very nice chocolate stout, for example. Fashions have changed a little, and right now the main focus is on Irish cider, like Magners, but that dark primordial soup will always have a place in British hearts and pint glasses.
Peter O'Toole
As befits such a mercurial presence in both his day job and his personal life, Peter O'Toole didn't know if he was born in Ireland or England, and because of this, he maintained two passports. While his dad was the Irish metal plater and bookie "Spats" O'Toole (and what a name that is!) his mum was Scottish and he grew up in and around Yorkshire, England, before attending the Royal Academy of Dramatic Arts in London, and becoming an astonishing fine actor (and enormous hellraiser). And while it's true to say he always considered himself to be Irish, it's equally true that the Brits affectionately considered him as one of their own.
The Pogues
No British person is going to claim the Pogues as anything other than an Irish band. They play Irish traditional music with an urban, punkish attack, and their best songs draw heavily from the mythology of Ireland, and the people who left there to move to other places. So there are songs about New York ("Fairytale of New York"), songs about London ("The Old Main Drag"), and songs looking back on Ireland as if from far away ("A Pair of Brown Eyes"). And this movement is reflected in the makeup of the band. Only two Pogues were born in Ireland—Philip Chevron and Terry Woods—making them an almost entirely expatriate affair. Actually a band like the Pogues could only have formed in a place with a heaving and rowdy Irish community, like London.
Graham Linehan
The don of the live-audience sitcom, whether it's The IT Crowd, Black Books, Count Arthur Strong or his most celebrated co-creation: the very Irish Father Ted. Graham—and his writing partner Arthur Mathews—can also take credit for popularising the old Hibernian word feck (a milder version of a far ruder word that is spelled much the same way) in Britain. Once largely unknown outside of Irish communities, you can now hear people saying "and when I got back I had a (whispers) fecking (unwhispers) parking ticket" from Penzance to Inverness.
He's also a ferociously keen user of the internet, so it's just as well we're being nice about him here.
"The craic"
This is a relatively recent acquisition, and yet another example of a constant cultural swap between Ireland and the U.K.. In Northern English and Scots slang, crack is a term derived from Middle English, which means conversation or news. So the question "what's the crack?" simply means "what's happening?" and has done in those areas since the mid 1800s.
In the mid 1900s, it began to enter Irish slang, possibly crossing over via Scotland and down through Ulster. And as the word first began to be written down, it was spelled the same way as it was in the U.K.
Then, as the term became more and more popular, it began to appear in Gaelic text, spelled in a Gaelic sort of a way. Possibly because it looked better that way. Whatever the reason, by the end of the 1970s, the word was commonly spelled craic.
This then made the journey back over the Irish sea to those parts of the U.K. that weren't already aware of it, and suddenly you had English buffoons mockingly asking Irishmen "whot's da craic?" in doltish accents, before starting to pick up on the term themselves, and eventually the comedian Dara O'Briain got to call his 2012 tour Craic Dealer, in the sure and certain knowledge that everyone would know what it meant.
Now everyone thinks it's an old and noble Irish word, especially people from Ireland, although there have been critics of the Gaelicized spelling, with the Irish journalist Kevin Myers even referring to it as "phoney," and a "bogus neologism."
So if someone ever asks you "what's the crack?" in either spelling, now you have a fairly decent amount to talk about.
See more: 
How Irish Chef Geraldine Gilliland Built a Culinary Empire in California
Snapshot: 25 Photos of St. Patrick's Day Celebrations in London
Five Irish Films for St. Patrick's Day
Liam Neeson Lends Voice to Northern Ireland
Read More
Filed Under: