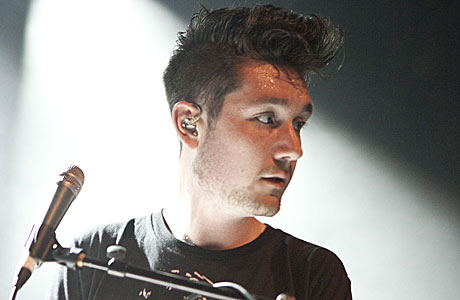 "Pompeii" by Bastille is kind of hard to get away from, isn't it? Not just a worldwide hit, but one that seems to draw together a few dominant themes in modern pop music (excluding those of a hypersexual, club-going-to nature).
You've got your faint echoes of British electronic dance music, but played on acoustic instruments like Mumford and Sons. You've got the big boomy ecstatic chorus, perfect for a summer festival, and you've got that curious way with vowel sounds—"if you cloawz yerr aiiiz"—that is most definitely English, very much rooted in the south-eastern Home Counties and has only just started to make an appearance on records.
So, assuming you're a big fan, have devoured every scrap of Dan Smith's musical output and are vaguely wondering what else exists that is similar to this sort of a thing, here are five British groups or performers whose most recent output would sit very nicely together on a playlist.
Thumpers
The most obviously Bastille-ish band on this list—if only because of the curious way they pronounce the word galore in "Galore"—Thumpers are a carnival of big drums, squeaky voices, galloping portentousness and that very modern, curiously sour kind of spiralling self-important bliss (as if you're at Woodstock and the Super Bowl at the same time, and everyone has the first symptoms of an oncoming migraine).
Metronomy
Joe Mount of Metronomy has a curiously yelpish voice, even when his band are blamming out supremely confident, soul-infused '60s pop like this. Metronomy's just-released fourth album "Love Letters" is a similarly singular affair: part introspective singer-songwriter, part synthpop rave-up, and all recorded in the defiantly un-digital Toe Rag studios. Square-peggery has rarely sounded so attractive.
Cate Le Bon
Of course a lot of people seized upon "Pompeii" because it sounds unlike other pop songs, while still being recognisably a pop song. It didn't sound like a thing that had been planned to succeed, more a thing that has been made and then taken out into the world, and Cate Le Bon's 2013 album "Mug Museum" is like that, only more so. It's the kind of album that garners quiet, but authoritative praise; the kind you get to hear because a friend slips it on in the car, or takes you to one side and strongly advises you check out. "Are You With Me Now" has none of the bombast or drama of the more boomy, reverberant songs on this list, but quietly asserts itself as an immovable object nonetheless.
London Grammar
Because young people really don't know when they're well off. London Grammar are a trio of university graduates whose principal trick is to make being young and vibrant sound like a terribly heavy burden to carry. Remember when you were young and you felt old? They're the soundtrack of that, with Hannah Reid's voice having the hoarse edge that you'd get from too many late night sobs and not enough early morning walks in the sunshine.
Elbow
If you've been putting off getting into Elbow, now is the time to give in. They have just released their fifth album "The Take Off And Landing Of Everything," and apart from being their New York album, it's another portfolio of sumptuous phrases, both musical and linguistic. If it's musical bliss you're after, something to surrender to, you may as well start with the masters.
And then go back and listen to everything else. They're special.
See more:
Ultimate British Mixtape: Guy Garvey's Six Songs That Represent the U.K.
Music Roundup: Five Official Themes From The London Games
Five Alternative Sources Of Paul McCartney
Five British Rockers Who Have Their Own Beer
Read More
Filed Under: