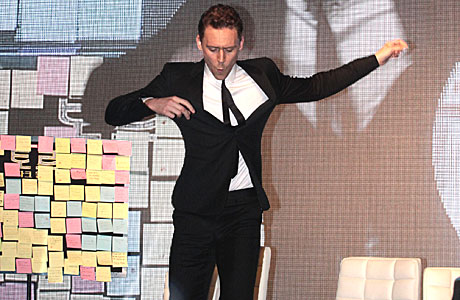 It's Ash Wednesday, a time when a lot of people consider giving stuff up for Lent. It's usually chocolate, or maybe bread or even alcohol. Not all addictive habits are food related, as we shall see.
Note: this is no critique, we'd just like to see if these five celebrities can put aside something they do quite often, for a set period.
Sir Paul McCartney — Lifetime Achievement Awards
Let's face facts, we all know that Sir Paul was in the Beatles, and that the Beatles were the peak artistic and commercial moment of the rock and pop era (if you're strict about Michael Jackson being pop and not rock, and don't get silly about preferring the Stones or whatever). We all know that he was an equal partner in the best songwriting partnership of the 20th Century and we all know that he continues to be very good at music to this day. However, a good portion of Sir Paul's time appears to be spent accepting lifetime achievement awards from media organisations who need him to turn up in order to make their event work with viewers and advertisers alike. He definitely deserves these awards—the NME gave him one only last week—but maybe an enforced layoff would remind music fans that he's still a living, breathing, creative person, not just the guy who counted in "I Saw Her Standing There."
Tom Hiddleston — Dancing In Interviews
Point a camera at Tom Hiddleston, and he will almost definitely do something adorable. That's just who he is. He's a one-man adorability machine, with a host of daft ideas and silly tricks ready to go. However, the thing about him dancing is starting to become a chat show cliché. It's a thing the hosts know they can get him to do and the crowd will all whoop and then there will be YouTube clips and everyone will be delighted.
(Note: this clip's a bit NSFW on the language front after Tom's done his stuff.)
All we'd need is a little time away from that—maybe he could work with a choreographer to come up with some truly startling new moves, or even take up ballet—and he could do the definitive chat show dance-off, after Easter.
Benedict Cumberbatch — Work
An obvious suggestion, given the amount of Busy Benedict posts we've run in the last couple of years, but maybe a holiday might be on the cards for everyone's favorite workaholic thespian dark otter. Not a long one, of course, just long enough to recharge those Cumberbatteries and maybe take up a hobby. Who wouldn't love to see him play the 5-string banjo? Or the tuba? If nothing else it'll put off the moment when an enterprising Director suggests an all-Benedict production of The Magnificent Seven.
And that will mean a greater sense of anticipation, of course. Who wouldn't want to see that?
Dame Helen Mirren — Glaring
Far be it from us to restrict an actor's palate of colors, or to try and tame a tiger, but Dame Helen is clearly a fun-loving person, with a game take on life's various ups and downs and a great sense of humor. She does have a fearful glare though, the kind that feels like a spotlight, a trial for high treason and an autopsy at the same time. Maybe a few weeks off would give her Medusa stare extra potency, maybe it wouldn't, but it might make the world a slightly less nervous place for a while.
One Direction — Merch
Imagine going shopping for everyday household items if you're a member of One Direction. Unless you're particularly fond of your own face (and very few people are quite as fond as you'd need to be), everywhere you look—from the toothpaste aisle to the perfume counter–you'd see either you or one of your four workmates smiling back at you. It has to be like wearing mirror shades with the mirrors on the inside, all the time. So maybe a month or two off lending your image to things that do not really need it to be there might help restore equilibrium to their fragile psyches. We don't want a five-way Beiber incident on our hands, now do we.
See more:
Tom Hiddleston: "'Thor' Fans Think I Can Pole Dance"
WATCH: Benedict Cumberbatch on 'Sesame Street'
Dame Helen Mirren, What Are You DOING?
WATCH: Paul And Ringo Reunited At The Grammys
Read More
Filed Under: