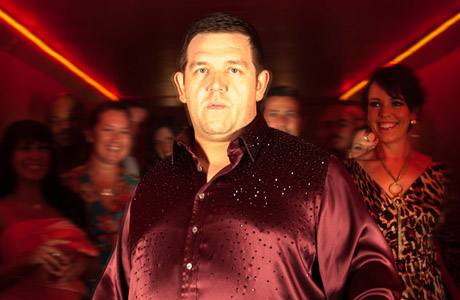 Nick Frost (The World's End) plays a former child salsa dance prodigy who is now a typical worker bee in director James Griffiths' Cuban Fury.
Yup, you read that right, a salsa dance prodigy in England. Frost's character, Bruce Garrett, was known to have "feet of flames." He retired his dancing shoes after a bullying incident.
Twenty-something years later he finds himself keen on his new American boss (Rashida Jones), but he's lacking the confidence he needs to approach her saying, "She's like a ten and I'm like a two. It's like a butterfly going out with a parsnip." Wait, we love parsnips, but that's neither here nor there.
In the below clip from ComingSoon.net, his sister, played by Olivia Colman, advises him saying, "All girls love a man who can dance. And you COULD dance."
We love Frost, but as viewers we may have to call on the "suspension of disbelief" to picture him winning over a girl with his salsa-tastic moves. But that's kind of the point of the story, which Frost co-wrote with Jon Brown.
The loveable Chris O'Dowd (Moone Boy/The IT Crowd) plays the bad guy for a change. The two have a dance-off in the parking lot with O'Dowd declaring, "What happens at lunch, stays at lunch." Oh my.
You can watch the trailer below:
What do you think of the salsa/British hybrid?
See More:
Simon Pegg And Nick Frost Destroy 'Get Lucky'
Screenwriting 101: Simon Pegg, Nick Frost, Edgar Wright Share Tips
First Look: Simon Pegg and Nick Frost Reunite in 'The World's End'
Read More
Filed Under: