In the days before Matt Smith's final scenes as the Doctor, we ran a series of posts talking about his greatest triumphs and tragedies as the Eleventh Doctor. And one of them pointed out that the secret to his success—apart from really looking like an alien in human form—is his bewitching ability with children.
This, we pointed out, is something every Doctor needs to have, but the Eleventh was particularly gifted in this regard. So it was lovely to see a clip last week showing Peter Capaldi taking a break from filming an episode of Season Eight, and talking to two young girls, and convincing them that it's okay for him to be the new Doctor, because Matt and Jenna Coleman (also present) had given their approval, and because he said he would look after Doctor Who for them.
If you've not seen it yet, take a look, it's adorable:
That, ladies and gentleman, is the Doctor.
Here's what else is going on in space and time this week:
• Doctor Who: The Time of the Doctor is now available for purchase on DVD and Blu-Ray in the U.S.! (Click here if you're in the U.K. or Australia.)
• Today (March 11) is Alex Kingston's birthday! We are celebrating with—spoilers!—10 great River Song moments.
• It's also John Barrowman's (Captain Jack Harkness) birthday. (What is it about being born on March 11 that makes people sexy?) Here's an interview we did with John on his favorite member of One Direction.
• This weekend marks the 39th anniversary of "Genesis of the Daleks," the first appearance of that one-eyed space rotter Davros. The Doctor Who site has created a special place for him and his despotic plans.
• The Doctor Who: Web of FearDVD, which features the recently recovered lost episodes, has broken the classic Who DVD record!
• Mark Gatiss promised Digital Spy that Peter Capaldi's debut as the Twelfth Doctor will be both "exciting" and "disturbing."
• Reece Shearsmith said he'd like to possibly be a part of Doctor Who someday. "Of course I think it would be great to be part of it, I'm just waiting for someone to think of it," he said. "I'd love to be a baddie in it."
• Can't wait for a new Dalek invasion? Pining for the Weeping Angels? Bereft of Sontarans? Why not try one of the eight monstrous new Doctor Who books released by BBC Books.
• Captain Jack Harkness is coming to Doctor Who Legacy, AND there will be an online version of the game available soon too.
• Think you know your Who-lore backwards? Take the Radio Times Doctor Who quiz and put your expert knowledge to the test.
• If you can somehow make your way over to Cardiff on Saturday, 29 March, you'll be in for a treat as there will be a Doctor Who special effects workshop at the BBC Studios. Oh, and it's open to the public!
• It has been released that Steve Thompson, who wrote "The Curse of the Black Spot" and "Journey to the Centre of the TARDIS," will be writing the fifth episode of this upcoming series.
• Last Tuesday was pancake day, and the Doctor Who Facebook page asked fans to send in their Whovian pancakes. And boy did they ever!
• Psychoanalyst Stephen Grosz, author of The Examined Life: How We Lose and Find Ourselves, will be writing his next novel on the inspiration of his 11 year-old daughter's love and attachment to the Eleventh Doctor.
• Tumblr user, illustrator, and animator, migueldelicado, created this beautiful piece of Clara and Twelve. Take a look at more of his work here!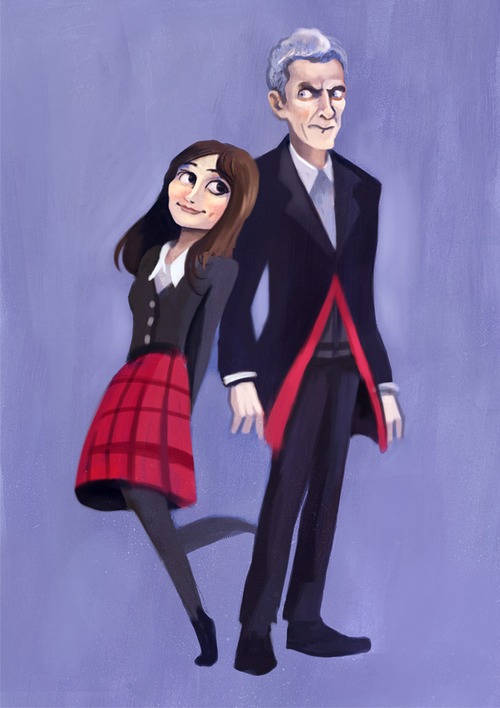 Let's go out with something rowdy. Here's YouTuber Huskybythegeek and his metallic reworking of "I Am The Doctor" and the Bad Wolf theme. Devil hands at the ready? Let's MOSH!
TTFN!
Read More
Filed Under: