Welcome to another roundup of the Whovian week, and this time, we're taking a trip into art-space.
On Friday, we got a first glimpse of the covers to the new Doctor Who Titan Comics series, created by Alice X. Zhang, and, well, they're fairly spectacular. Look:
Two parallel strands will hit stores in July, featuring the Tenth and Eleventh Doctors.
The Tenth Doctor's first five-issue storyline has been written by Eisner Award-winning writer Nick Abadzis (Laika) and drawn by Elena Casagrande (Angel), and his second has been devised by Robbie Morrison (Drowntown).
The Eleventh Doctor's new adventures have been devised by Al Ewing (Loki: Agent of Asgard) and Rob Williams (Revolutionary War), and brought to vivid life by Simon Fraser (Grindhouse).
And there will be an all-new Twelfth Doctor strand, featuring Peter Capaldi in all of his finery, coming out before the end of the year.
Here's what else is going on in space and time this week:
Steven Moffat, speaking to last week's BBC Worldwide showcase, said this: "Sherlock and Doctor Who are both doing rather well but they couldn't be more definitively British. They're obtusely British. They're about as British as it gets. You shouldn't be afraid of being British because that's what you're selling."
• The man who located the missing Doctor Who episodes, Television International Enterprises and Archives executive director, Philip Morris, talks about how he found the tapes, and how the search for more missing episodes continues.
• WhatCulture has ranked all 85 new Who stories – take a look!
• From the cute to the downright creepy, here's our guide to the poetry of Doctor Who.
• A plea from Mark Gatiss to anyone considering subscribing to the Doctor Who YouTube feed:
• Hey did you know Peter Capaldi won an Oscar once? Yep! In 1995 he won Best Live Action Short for Franz Kafka's It's a Wonderful Life (of no relation to the Christmas film), which he both wrote and directed.
• The Guardian provides a helpful guide to the Doctor's male travelling companions.
• The Doctor Who site offer a definitive guide to "The Web of Fear" (using gifs):
• And a profile of the Great Intelligence too.
• Matt Smith's Eleventh adventure at the Doctor Who Experience in Cardiff will be regenerating as well. The walk-through will be closing this autumn as Twelve films a new adventure.
• A brief guide to the Whovian pedigree of HBO's latest hit Looking.
• Artist James Hance made this "Adventure Timey-Wimey" mural for his 9-year-old daughter's wall.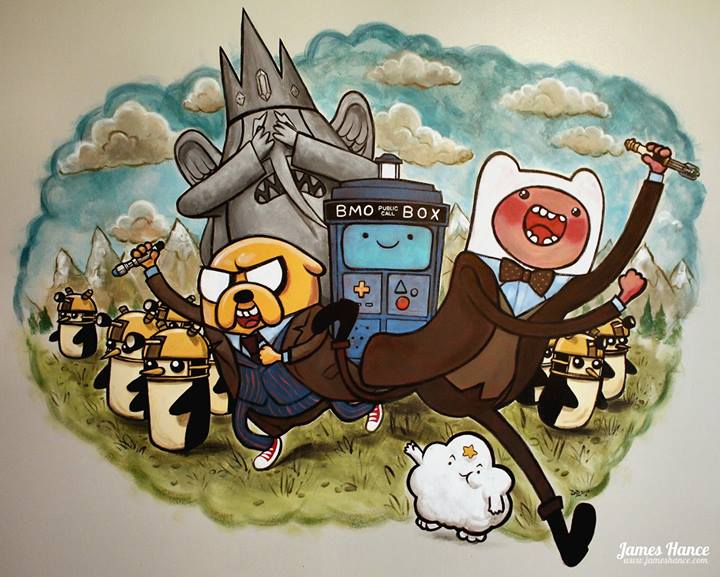 • Looks like Lego Doctor Who toys may be headed our way!
• You can get your photo taken with both Matt Smith and Karen Gillan at the Wizard World Louisville Comic Con this March! Get your tickets for the event here.
• If your heart can handle it, take a look at and relive the most tear-jerking moments on Doctor Who again. The feels are real, my friends.
• Let's end this week with a giggle. If you've ever wondered how an interaction between the Doctor, his companions, and Holly from Red Dwarf would go, take a look at this—what would it be… Doctor Dwarf? Red Who?—mash-up:
TTFN!
Read More
Filed Under: