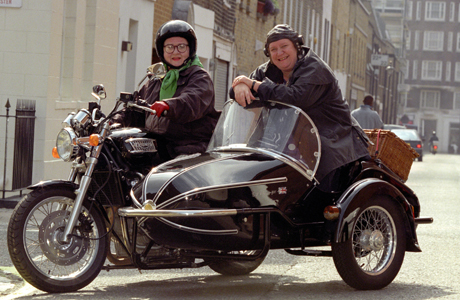 She was the jolly one in the sidecar.
During the opening credits of the popular 1990s British cooking show, Two Fat Ladies, Clarissa Dickson Wright tootled along in the sidecar of a black Triumph Thunderbird motorcycle while her on-screen culinary partner, Jennifer Paterson, piloted the belching bike.
Dickson, 66, died on March 15 at the Royal Infirmary in Edinburgh after, according to her agent, having been sick for several months.
Here's a report on her death which aired on the BBC.
A former barrister and reformed alcoholic, Wright became a professional cook and was running Books for Cooks, a bookstore specializing in cookbooks in London's Notting Hill neighborhood, when she was paired with Paterson by a BBC producer for the TV show in 1996. In the prosaically-named Two Fat Ladies series, which ran for four seasons until Paterson's death in 1999 from cancer, the two women would motor through the U.K., making stops along the way to whip up artery-busting gourmet meals.
Championing the use of lard in one program, Wright said, "Just in case you think it's unhealthy, don't be put off by that." She and Paterson also regularly discussed on air the importance of keeping, ahem, regular and foods that led to flatulence.
The show became a hit in the U.K. and was quickly picked up by the then fledgling Food Network channel in the U.S., turning the middle-aged Wright and Paterson into unlikely stars on both sides of the Atlantic.
After Paterson's death, Wright continued as a TV personality, appearing on cooking shows such as her own Clarissa and the Countrymen series (2000-2003) and doing guest shots on various programs, including Absolutely Fabulous in 2003.
As for being labeled a fat lady right in the title of the show that made her famous, Wright said she never had a problem with that. "If you're fat, you're fat," she told The Guardian in 2009. "I hate this modern-day political correctness, that you don't call things by their proper names."
Were you a fan of the Two Fat Ladies?
See More:
Brit Binge Watching: Five Food Films You Can View Online
Food Memories: What Do You Miss From Britain?
What Are Brits Watching: 'Food Unwrapped'
Read More
Filed Under: