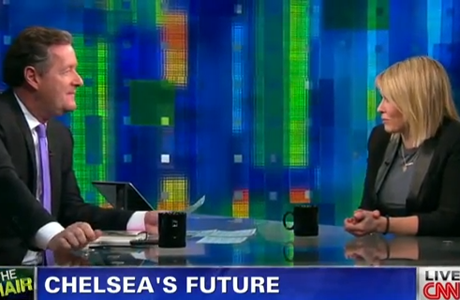 Piers Morgan cannot get a break. It was recently announced that his CNN show, Piers Morgan Tonight, is coming to an end, but that didn't stop E! TV personality Chelsea Handler from telling him how it is, reports USA Today.
Handler, the host of Chelsea Lately, had a sit down with Morgan to talk about her new book, Uganda Be Kidding Me.
It seemed like everything was fine and dandy until Handler lays into Morgan for ignoring her during the commercial break. Morgan is asking her about her week and she just is not having it. She is obviously pissed (and we don't mean drunk like the British say) and there's no way Morgan is going to be able to come back from this.
She answers him back sternly saying, "I'm working this week. I have to come here and tolerate this nonsense." The comment is out of context, and us as viewers aren't 100 percent clued in.
Morgan mentions tweeting and it acts as a trigger for Handler to let loose. She speeds us up, calling him out for tweeting during the break rather than engaging with her as a guest saying, "I want your viewers to know, I mean they must know because they're probably following you on Twitter, but you can't even pay attention for 60 seconds. You're a terrible interviewer."
Morgan tries to save face and gives it right back saying, "You just weren't keeping my attention." It seemed like he was joking, but you never know.
Handler did not treat it like he was joking responding, "That's not my problem. This is your show. You have to pay attention to the guests that you invited on your show."
At this point Morgan could back down and be a gracious host. But he doesn't. He keeps going saying, "You're just not interesting enough."
Nobody would ever accuse Chelsea Handler of being boring. So, he was definitely off in that comment.
It keeps going with Handler defending herself as a guest saying, "Listen. It doesn't matter how interesting I am. You signed up for this job … " Dramatic pause. "… maybe this is why your job is coming to an end."
Ouch.
Morgan laughs, a little too long, and just says, "Wow."
Here's a clip of the interview. Warning: It's pretty uncomfortable.
The conversation continues after the awkward bit and the two play nice.
Wow is right. Do you think Handler went too far?
See More:
CNN Run Comes to an End
Piers Morgan: "I Could Be the New Barbara Walters"
Piers Morgan's Plans to Lure Viewers to CNN
Read More
Filed Under: