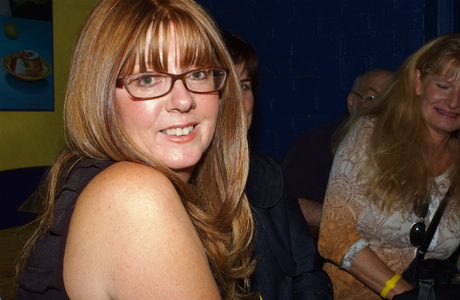 St. Patrick's Day has become one of the biggest parties in the world. It's celebrated by the Irish diaspora everywhere, though it also seems that if you can find Ireland on a map, have watched the Irish soccer team or you just like U2, Liam Neeson or Guinness, that's reason enough to celebrate the saintly snake-banisher with a bit o' the auld craic.
In the U.S. it's rather like Halloween in that it's become an acceptable day for dressing up and acting out—even getting three sheets to the wind is more socially acceptable on March 17—and especially in cities like New York, Chicago, Boston and Philadelphia there will be green-colored rivers, green-colored beer, shamrocks, leprechauns and ginger wigs aplenty.
Chef, restaurateur and author Geraldine Gilliland is one of the many Irish people in America, having come over from Belfast in Northern Ireland back in 1975. When she was a schoolgirl back home, she worked in a local restaurant during her vacations. She remembers falling to the floor when the bombs started going off. But it was the innovative management of the restaurant—special evenings of Greek, Chinese or Indian food—that had the greatest impact on her and inspired her future career.
Like many others Geraldine wanted to move away from "The Troubles," and she eventually found herself alone in "exotic" Los Angeles. Laughing, she says, "It was a scary time. I knew they spoke English, but it sounded like a different language." She cashed in all her return tickets when she saw the beach in Santa Monica, and she got straight down to work.
She used her degrees in classical French cuisine and home economics to teach, and soon after Gilliland's Cafe opened in 1984, she began her own catering company. Her mix of Californian and Irish cuisines was a hit, and—thanks to a positive tarot card reading and educational trips to Mexico—she decided to open the cantina-style Lula Cocina in 1991, and then 2002 saw Jake and Annie's American-Irish Café, which is now Finn McCool's pub.
Geraldine already knew the pub, as she had been pulling pints there since she was 10 years old back in Newry, County Down. When her stepfather retired as landlord, she had it shipped to the U.S. via the Panama Canal, reassembling it in Santa Monica and renaming it after the legendary Irish giant—and opening on, of course, St. Patrick's Day.
Today, over 30 years later, Geraldine is thoroughly settled into the California lifestyle and lives in a 250-acre Rancho Chiquita in Malibu, where she holds cooking classes, parties and weddings.
There have been some difficult times—her Guest House was destroyed during a forest fire in 2007—though that event brought her closer to other passions, like community activism and dogs.
She helped rescue family dogs at the time, and now hosts fundraising dinners for various animal and wildlife associations, and for the local volunteer fire department.
She's connected to Northern Ireland too, working with the US-Ireland Alliance, a non-profit that builds link between the two countries in education, politics, business and the arts; and Cinemagic, a film festival for young people in Northern Ireland and the U.S.
Unmissable with her red hair and funky glasses, you can see a mural of her or her skeleton-self on the wall at Lula Cocina. She's often behind the bar at Finn's, where she makes a point to employ Irish people: "I love running the bar because I get to meet a lot of people from home. They drink Guinness mostly and eat home cooked foods."
Working and running restaurants has led to some amusing moments too: "Years ago we used salt instead of sugar to make the pancakes at Gilliland's for a famous chef named Michael Roberts," she recalls, "and then I dropped a whole tray of champagne glasses at their table. We had a great laugh, though."
As for living in California, even after all these years she still says the best things are "the weather, the beach, the weather, the beach and the opportunity." She has three top bits of advice for people new to the U.S.—that is, if they're here to stay: "Work very hard, save some money, and don't get into credit card debt!"
Geraldine hadn't returned to Northern Ireland for many years after becoming afraid to fly, but she conquered her fears when an uncle, who was from Belfast but lived in Portugal, had a heart attack. "He was my mentor growing up," she says of her uncle, "and my fear of never seeing him again made me overcome my fear of flying. I told myself 'you have to get over this.' Although he was very ill, the moment he asked about my swimming pool I knew he knew it was me. He died the very next day."
As for St. Patrick's Day, Geraldine suggested a recipe for Mind The Gap readers—and it's tried and tested: "You'd think I'd be sick of my own food after 30 years, but I get take out from Lula and Finn's, even though I'm not a big takeout person."
To celebrate Paddy's Day with your friends, here's Geraldine's recipe for Irish Beef Stew with Colcannon:
Ingredients for Irish Beef Stew (six servings):
6 tablespoons vegetable oil
6 pounds boneless beef chuck cut into 1 ½-inch cubes
2 ounces white flour
6 onions, chopped
24 oz Guinness Stout
4 cups beef stock
3 pound carrots, peeled, cut into 1 ½-inch pieces
2 pound parsnips, peeled, cut into 1 ½-inch pieces
2 pound rutabagas, peeled and cut into 1 ½-inch pieces
1. Heat 1 tablespoon oil in a heavy large Dutch oven or pan with lid over high heat. Season beef with salt and pepper and dip into flour. Add one-third of beef to oil and brown well. Remove from pan and repeat with remaining 2 batches. Reduce heat to medium.
2. Add onions to Dutch oven and saute until translucent, about 8 minutes. Return beef and any accumulated juices to pan. Add Guinness stout and enough beef stock to cover meat. Cover and bring to a boil. Reduce heat and simmer until meat is almost tender, one hour.
3. Add vegetables to stew and simmer uncovered until beef and vegetables are tender and gravy is thick, about one hour. Season to taste. Serve hot.
Colcannon (six servings):
4 pounds Russet potatoes, peeled and cut into 1 ½-inch pieces
1 ½-pound Savoy cabbage, thinly sliced
1 ¼ cups water
1 cup milk
1 bunch green onions, chopped
6 oz butter
Extra chopped green onions
1. Cook potatoes in large pot of boiling salted water until tender. Drain. Return to pot and cover with a tea towel over low heat until potatoes are steamed dry. Mash with a wooden spoon and set aside
2. Combine cabbage and water in saucepan and boil until all liquid evaporates and cabbage is tender but bright green in color. Drain off any excess liquid and mix cabbage into mashed potatoes.
3. Combine milk, green onions and 4 ounces butter. Bring to a boil and melt the butter. Pour into the potato mixture and stir to combine. Season with Salt and pepper. Make a mound and make a well in the center and place remaining butter. Sprinkle with more chopped green onions and serve.
As for the future, Geraldine has plans to build an animal sanctuary for death row dogs at her home. "In 2011 I formed my own non-profit agency 'Chiquita's Friends' dedicated to supporting and raising money to stop animal cruelty and give hope to the forgotten, neglected and rejected, which we launched with a gala honoring actress and Humanitarian Linda Blair."
She's back at the writing desk too, currently finishing up her second cookbook Lula's Kitchen: Recipes and Recollections of Mexico, which is due out in May.
See more:
British Expat of the Month: Dave Parry of Chicago Tafia
7 British Food Habits Americans Will Never Understand
Read More
Filed Under: