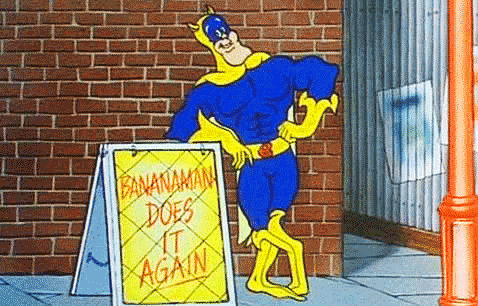 Never mind the Avengers. Spider-Man? Take a day off. Batman, have a lie in. It's time for a British breed of superhero to take to the silver screen.
Bananaman is a beloved comic strip creation (with emphasis on the word 'comic'), first seen in a children's weekly called Nutty in 1980, and owned by DC Thompson, the people who make the Dandy and the Beano, where he now makes regular appearances.
Aping some of the backstory of both Captain Marvel and Popeye (and the powers of Superman), Bananaman is the story of the feeble schoolboy Eric Wimp, who lives at 29 Acacia Road Nuttytown (or Dandytown, depending on which comic you're reading).
When Eric eats a banana, he transforms into Bananaman, a beefcake hero in an eye-watering yellow and blue super-suit, with a very (cough) a-peel-ing cape.
http://www.youtube.com/watch?feature=player_embedded&v=Hq2KXudEjkI
Bananaman's powers include flight and invulnerability, just like Superman, and also the strength of "twenty big men" or "twenty snowmen" or "twenty big nerks." Somewhere about that level, anyway.
He is vulnerable to changes in banana quality, however. While an extra banana will boost his powers, too many will leave him fat and poorly, and if he doesn't eat the whole banana, only bits of him will transform. It's a very complex chemical arrangement, as befits a truly three-dimensional comic creation.
And now it looks as if Bananaman is about to magically transform into a movie star. A website has been created—www.bananamanmovie.com—which sports the DC Thompson logo and that of Elstree Studios, which is where the Harry Potter movies were shot. And there's a hashtag too: #PeelThePower, plus the year 2015.
As there are no more details (even IMDB doesn't have a listing at present), it's not clear what this all means, but you can bet that with such a beloved character there will be some top quality British acting talent involved, maybe even a Rickman, Hiddleston or (who knows!) a Cumberbatch.
Which means this is one superhero project we'd all like to see through to fruition.
See more:
The Daleks Invade The Beano, Followed Closely By The Doctor
Four Words That Don't Work Written Down (And One You Can't Say Out Loud)
The Curious Tale of Dennis The Menace
Life Outside The TARDIS: Jon Pertwee
Read More
Filed Under: