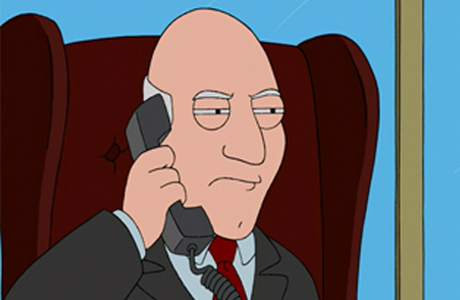 Sir Patrick Stewart is quite the character, playfully mocking Prime Minister David Cameron's presidential phone call on Twitter, stirring the pot with his bestie Sir Ian McKellen in this  futbol versus football photo and recently popping up on The Colbert Report portraying an "Average American."
While we love his antics, let's get back to basics and check out some of his fictional characters we've grown to love him for:
1. American Dad!
Deputy Director Avery Bullock (Stewart) is CIA agent's Stan Smith's (Seth MacFarlane) boss. Bullock has worked at the CIA for over 25 years. He's prone to treat his agents more like schoolchildren, scolding them and delving out written assignments. 


Watch American Dad! on Netflix.
2. Star Trek: The Next Generation
Captain Jean-Luc Picard (Stewart) follows in the footsteps of Captain James T. Kirk (William Shatner) as commander of the USS Enterprise. Captain Picard leads his crew, with the help of First Officer William Riker (Jonathan Frakes), as they travel through space, the final frontier.
Watch Star Trek: The Next Generation on Netflix.
3. Macbeth
Macbeth (Stewart), a general in the army, receives a prophecy from three witches, who are wartime nurses in this modernized version of William Shakespeare's story. The prophecy suggests he will rise to power one day. Rather than relying on fate, he takes matters into his own hands.
4. X-Men
Professor Charles Xavier (Stewart) runs an academy, which provides a safe haven for mutants who have extreme powers. The mutants team together to fight against those with similar powers led by Magneto (Ian McKellen). 


Watch X-Men on Amazon.com Instant.
5. Robin Hood: Men in Tights
Robin Hood (Cary Elwes) robs from the rich and gives to the poor. He particularly gets under the skin of Prince John (Richard Lewis), the richest of them all. When King Richard (Stewart) returns from the Crusades, he shows them who's boss.
Watch Robin Hood: Men in Tights on Netflix. 

Do you have a favorite Patrick Stewart film, please share!
See More:
Brits with Birthdays: Patrick Stewart Turns 73
Patrick Stewart Channels an "Average American" on 'The Colbert Report'
Sir Ian McKellen: "I'm Going To Marry Patrick Stewart"
Read More
Filed Under: