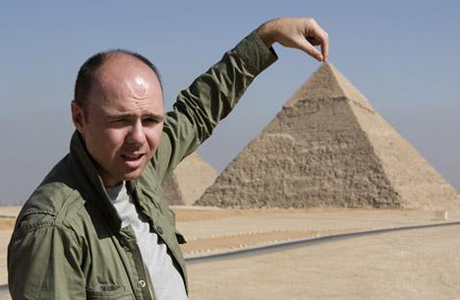 Who doesn't want to travel the world and what better way to do it than with some of Britain's favorite actors and comedians? It's nice to get out of your natural habitat for a bit and stretch your legs. Let's take a spin around the globe with these British travel and adventure series:
1. An Idiot Abroad
Ricky Gervais and Stephen Merchant send their pal Karl Pilkington around the world. Pilkington begrudgingly visits The Seven Wonders. While he's not too keen on his accommodations or the trek it takes to get to the end spot, it is laugh out loud funny to watch. Note: Karl is not an idiot by any means; the name is actually used as a term of endearment by his mates.
Watch An Idiot Abroad on Netflix.
2. Joanna Lumley's Greek Odyssey
AbFab's Joanna Lumley mistakenly went to the island of Poros instead of the island of Paros at the age of 20. The confusion is understandable but it definitely sounds like a Patsy move. Lumley makes her return to the island as a seasoned traveler, and shows us around the Greek getaway she accidentally fell in love with.
Watch Joanna Lumley's Greek Odyssey on Acorn TV.
3. Long Way Round
Scottish actor Ewan McGregor and his longtime friend and fellow actor Charley Boorman hop on their motorbikes, traveling 20,000-miles, across 12 countries and 19 time zones in just 115 days. The duo starts off in London, riding their BMW GS R1200s through Europe, crossing the Ukraine, Russia, Kazakhstan and Mongolia to the Road of Bones through Siberia, over to Alaska, through Canada, North America and finishing in New York. There was a train ride in there somewhere, but for the most part, it was the boys and their bikes. 


Watch Long Way Round on Hulu.com.
4. Stephen Fry in America
Stephen Fry tours the U.S., visiting 49 out of 50 states, mostly in a London cab. His travels are broken up into six parts: 1) New England; 2) Deep South; 3) Mississippi River; 4) Mountains and Plains; 5) True West and 6) Pacific. We're stating the obvious, but he's probably seen more of the continental U.S. than most Americans. 


Watch Stephen Fry in American on Hulu.com.
5. Michael Palin: Sahara
Monty Python's Michael Palin travels the Sahara, visiting Gibraltar, Morocco, Western Sahara, Mauritania, Senegal, Mali, Niger, Libya, Tunisia and Algeria. The Sahara desert is huge, the size of the United States. He describes it as "alien" and "hostile" as anywhere on the planet and completely unknown territory to Palin. The comedic actor compares setting off on a new trip to getting up on a Monday morning saying, "I know I've got to do it, but I put it off until the very last minute." He seems a bit anxious but ready to be tested.
Watch Michael Palin: Sahara on Netflix.com.
Where are you going first? 
See More:
Brit Binge Watching: Five Sci-Fi Dramas You Can View Online
Brit Binge Watching: Five Dark Comedies You Can View Online
Brit Binge Watching: Five Foodie Films You Can View Online
Read More
Filed Under: