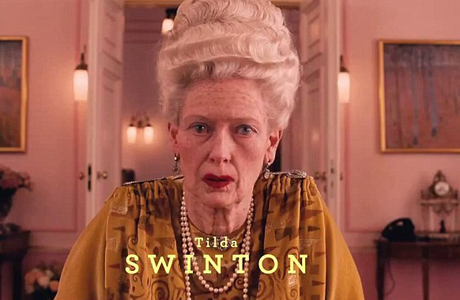 Wes Anderson's Brit-filled The Grand Budapest Hotel hits theaters today. Ralph Fiennes leads the star-studded cast made up of Jude Law, Tom Wilkinson, Saoirse Ronan and Anderson alums Bill Murray, Jason Schwartzman, Edward Norton, Owen Wilson, Harvey Keitel, Willem Dafoe, Jeff Goldblum and Lea Seydoux.
It's a long list of standout actors but we have a feeling Tilda Swinton might be a scene-stealer with her character Madame D who is of advanced age. Let's take a peek at some of Swinton's earlier performances leading up to The Grand Budapest Hotel here:
1. Michael Clayton
Tilda Swinton stars opposite George Clooney who is a "fixer" for a high profile law firm. He's called in after one of the partners has a breakdown during a meeting, landing him in jail. Swinton acts as his point person. 


Watch Michael Clayton on iTunes.
2. I Am Love
This film is actually Italian, with subtitles, with Swinton leading the cast. The Recchis enjoy a decadent lifestyle, living in a grand home and enjoying all of the comforts you could imagine. Emma Recchi (Swinton) appears to lead an idyllic life with a doting husband and grown child about to marry but as the saying goes, "Mo' money, mo' problems." 


3. Broken Flowers
Bill Murray portrays Don Johnston, a retiree who is enjoying a quiet life. He receives an anonymous letter alerting him to the fact that he may have a 19-year-old son. After some encouragement from his neighbor (Jeffrey Wright) he decides to look into the situation, but doesn't have much to work with. He narrows his list of former girlfriends down to five, which includes Penny, played by Swinton.
Watch Broken Flowers on Netflix.
4. Burn After Reading
In this Coen brothers flick; Swinton's character is married to a CIA agent by the name of Osborne Cox, played by John Malkovich. Cox decides to quit his job after facing a demotion. She in turn decides to divorce him and leave him for her lover (George Clooney). Nice one, huh? To add salt to the wound, Cox finds himself on the other end of an attempted blackmail by some confused misfits from his gym (Frances McDormand/Brad Pitt).
Watch Burn After Reading on iTunes.
5. The Chronicles of Narnia
Swinton is stunningly terrifying as Jadis, the White Witch in the film adaptation of C.S. Lewis' classic story The Lion the Witch and the Wardrobe. She reprises her role in the two follow up films; Prince Caspian and The Voyage of the Dawn Treader. The story follows four children who find a fantastical land, called Narnia, through the back of a wardrobe. The children arrive during the Age of Winter. The White Witch had created a perpetual winter, for 100 years, to control the creatures of Narnia.

Watch The Lion, the Witch and the Wardrobe on Amazon.com Instant.
Watch Prince Caspian on Amazon.com Instant.
Watch The Voyage of the Dawn Treader on Amazon.com Instant.
Which movie will you watch first?
See More:
Tilda Swinton on 'Doctor Who': "Long Live the Doctor"
Go to MoMA, See Actress Tilda Swinton Sleeping in a Glass Box!
Watch: Ralph Fiennes Shows Off Comedic Skills in 'Grand Budapest Hotel'

Read More
Filed Under: