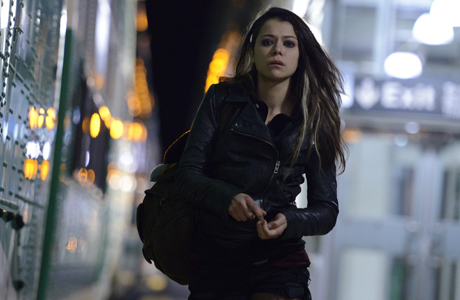 BBC America's original program Orphan Black revolves around Brit Sarah Manning, a street kid who grows up to find out she's one of many clones, played by Canadian actress Tatiana Maslany. The second season of the show makes its return on April 19 at 9pm EST. Maslany is so convincing as a Brit, and of course, as her many other characters, you wouldn't necessarily guess her hometown is Regina, Saskatchewan in Canada.
We've done posts featuring Americans playing Brits and the vice versa, Brits pulling off American roles. But in this case, let's take a peek at a handful of Canadians putting their best Brit on with performances available online:
1. Christopher Plummer
Plummer (The Sound of Music) takes on the title role in Terry Gilliam's fantastical story of a traveling performing group, also starring Heath Ledger and Andrew Garfield. Parnassus makes a deal with the devil but there's a catch, as there typically is.
Watch Imaginarium of Doctor Parnassus on Amazon.com Instant.
2 Donald Sutherland
Wait, Sutherland isn't British? We jest, but it can get confusing with his son Kiefer being born in London. Sutherland (Hunger Games) started off his career popping up in a number of British films including The Great Train Robbery playing opposite Scotsman Sean Connery. The two play nice when out and about, but behind closed doors they scheme to steal a trainload of gold bricks.
Watch The Great Train Robbery on Amazon.com Instant.
3. Evangeline Lilly
Lilly (Lost) plays the Wood-elf Tauriel in The Hobbit sequel, Desolation of Smaug. But, get this … her character didn't appear in the actual J.R.R. Tolkien stories. Apparently the writers and director Peter Jackson took advantage of their use of "artistic license." Her inclusion in the film, and not the novels, has been pointed out but people don't seem to mind too much. Lilly does don a British accent in the film but technically it could be considered elven.
Watch The Hobbit: The Desolation of Smaug on Amazon.com Instant.
4. Mike Myers
Myers (Saturday Night Live) was born and raised in Canada, but both his parents come from Liverpool, England. He has dual-citizen ship in both countries. Myers had James Bond in mind when writing the character of Austin Powers, International Man of Mystery, which is portrayed by the writer himself. Powers is all about saving the world, but why not have some fun while doing it baby.
Watch Austin Powers on iTunes.
5. Kris Holden-Reid
Holden-Reid (Lost Girl) takes on the character of courtier William Compton in Showtime's The Tudors, which tells the story of King Henry VIII's (Jonathan Rhys Meyers) reign. Compton became a close friend to the king.  


Are you surprised by anyone on the list? 
See More:
Brit Binge Watching: Five Steamy Films You Can View Online
Brit Binge Watching: Five Travel & Adventure Series You Can View Online
Brit Binge Watching: Five Sci-Fi Dramas You Can View Online
Read More
Filed Under: