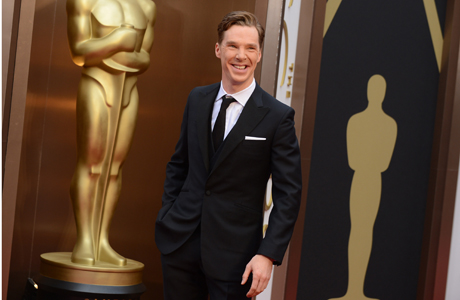 It was a good night (March 2) to be Benedict Cumberbatch at the Oscars. No, he didn't take home any awards—he wasn't even nominated—but he may have gotten more face time than anyone other than host Ellen DeGeneres. Why?
Well, there was this: U2 on the red carpet, totally oblivious to one Mr. Cumberbatch appearing behind them as if climbing out of the abyss:
ICYMI, Benedict Cumberbatch photobombed @U2 so hard—see all the #ERedCarpet photobombs! http://t.co/rsCfkYxh9g pic.twitter.com/1yxi7oJGWO

— E! Online (@eonline) March 3, 2014
And of course, it didn't hurt that he had strategic seating, next to the royal couple of Hollywood, Angelina Jolie and Brad Pitt:
!!! RT @Lauren_Gallaway: Benedict sitting next to Angie!!! #Oscars2014 #AudienceCam #ABC pic.twitter.com/rdOQrp8x5y

— Ellie Hall (@ellievhall) March 3, 2014
But wait, weren't some awards handed out tonight? Indeed.
12 Years a Slave, co-starring one Mr. 'Batch, received the Oscar for Best Picture, alongside statuettes for Lupita Nyong'o, who won Best Supporting Actress, and John Ridley, who took home the award for Best Adapted Screenplay. Nyong'o received a standing ovation from the audience, and in her speech, paid homage to 12 Years's director, Steve McQueen, who handpicked the fresh-out-of-Yale-Drama actress to portray Patsy, a slave who suffers unspeakable violence in the film. "To Steve McQueen, thank you so much for putting me in this position. This has truly been the joy of my life."
She added these inspirational words: "No matter where you're from, your dreams are valid."
Meanwhile, as expected, Cate Blanchett won Best Actress for her role in Woody Allen's Blue Jasmine, in which she played a mentally unstable ex-trophy wife who seeks solace in the home of her working-class sister. She singled out each of her fellow category nominees for praise, including the absent Dame Judi Dench, who is in India filming the sequel to The Best Exotic Marigold Hotel.
"Judi is not here because her film was so successful, she's in India filming a sequel," Blanchett said.
Dallas Buyers Club's Jared Leto and Matthew McConaughey picked up Best Supporting Actor and Best Actor, respectively; McConaughey prevailed over Brits Christian Bale (American Hustle) and Chiwetel Ejiofor, who'd taken home a BAFTA for anchoring 12 Years a Slave. Alfonso Cuarón won the Best Director prize over 12 Years' McQueen, making history as the first Mexican winner in that category. All in all, it was an even that saw little Britishness, except for the presenters, who included Ewan McGregor and, yes, Cumberbatch, presenter of Best Production Design to The Great Gatsby.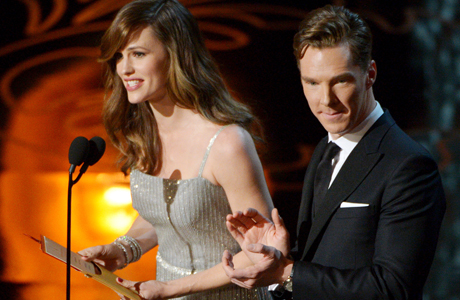 Here's the full list of winners:
BEST PICTURE
12 Years a Slave

BEST DIRECTOR
Alfonso Cuaron, Gravity

BEST ACTOR
Matthew McConaughey, Dallas Buyers Club
BEST ACTRESS
Cate Blanchett, Blue Jasmine
BEST ORIGINAL SCREENPLAY
Her

BEST ADAPTED SCREENPLAY
12 Years a Slave
BEST SUPPORTING ACTRESS
Lupita Nyong'o, 12 Years a Slave

BEST SUPPORTING ACTOR
Jared Leto, Dallas Buyers Club
BEST ANIMATED FILM
Frozen

BEST CINEMATOGRAPHY
Gravity

BEST COSTUME DESIGN
Catherine Martin, The Great Gatsby

BEST DOCUMENTARY FEATURE
20 Feet from Stardom
BEST DOCUMENTARY SHORT SUBJECT
The Lady in Number 6: Music Saved My Life Malcolm Clarke and Nicholas Reed
BEST FILM EDITING
Gravity Alfonso Cuarón and Mark Sanger
BEST FOREIGN LANGUAGE FILM
The Great Beauty Italy
BEST MAKEUP AND HAIRSTYLING
Dallas Buyers Club Adruitha Lee and Robin Mathews
BEST ORIGINAL SCORE
Steven Price, Gravity

BEST ORIGINAL SONG
"Let It Go" from Frozen
Music and Lyric by Kristen Anderson-Lopez and Robert Lopez
BEST PRODUCTION DESIGN
The Great Gatsby
Production Design: Catherine Martin; Set Decoration: Beverley Dunn
BEST ANIMATED SHORT FILM
"Mr. Hublot" Laurent Witz and Alexandre Espigares
BEST LIVE ACTION SHORT FILM
"Helium" Anders Walter and Kim Magnusson
BEST SOUND EDITING
Gravity Glenn Freemantle
BEST SOUND MIXING
Gravity Skip Lievsay, Niv Adiri, Christopher Benstead and Chris Munro
BEST VISUAL EFFECTS
Gravity Tim Webber, Chris Lawrence, Dave Shirk and Neil Corbould
See more:
PHOTOS: Benedict Cumberbatch and Michael Fassbender's Wild Golden Globe Weekend"
WATCH: Michael Fassbender Spends Entire Movie Inside a Big Fake Head
Read More