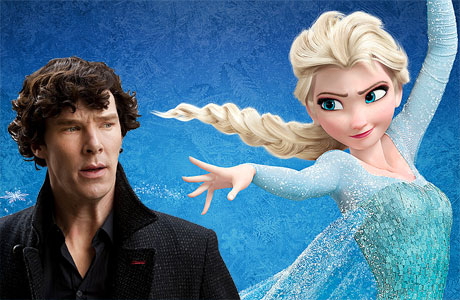 Hands up who wants to hear Benedict Cumberbatch sing a showtune…
Oh, that's quite a lot of hands. That's, like, ALL the hands, isn't it? And some of you are driving.
So, here's how we all get what we want. During the run of promotional interviews for the movie, the creators of Disney's slideaway success Frozen were asked by She Knows Entertainment who would be in their dream cast for the (let's face it, inevitable) follow-up.
And while everyone was at pains to point out that there are currently no plans, no scripts, no new characters and definitely no agents to talk to, a few names did come into the frame. Jamie Foxx, for one, and possibly Matthew McConaughey (as a kind of inspired afterthought).
But if you watch the clip of directors Jennifer Lee and Christopher Buck, there's definitely a sense that Benedict is the elephant in the room, namewise. He's the guy they really, really want:
And we already know that he speaks dragon, and that a dragon would be a worthy adversary for someone with magical freezing powers.
Not that we're pitching ideas or anything…
Oh, and as a further reminder of Benedict's powers of persuasion, here's his appearance in the latest Jaguar ad:
See more:
Fill In The Blanks With Benedict Colorbatch
WATCH: Benedict Cumberbatch on 'Sesame Street'
Benedict Cumberbatch Has A New Job
Is Benedict Cumberbatch Going To Be In 'Star Wars' Now?
Read More
Filed Under: