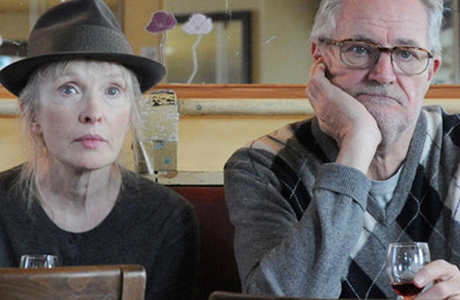 At an age when many folks are considering retiring and just puttering about their garden, British actor Jim Broadbent, 64, is busier than ever.
The Oscar-winning actor's latest film is Le Week-End, a delicious romantic comedy that opens today (March 14) in the U.S. Directed by Roger Michell (Notting Hill) and written by Hanif Kureishi (Venus), the British movie is about a long-married couple (Broadbent and Lindsay Duncan) who travel from the U.K.'s Birmingham to Paris for an extended weekend, having spent their honeymoon 30 years ago in the City of Lights.
Once there, the two discover that a change in location doesn't necessarily mean that they've left differences or irritations with each other behind but rather that the existing cracks in their marriage seem to be widening. Over the course of the long weekend, each must remember what it is about their spouse that delights them and why they're in it for the long haul.
Broadbent brings to the role the rueful charm of a man who has in many ways been disappointed by life. He deftly paints a character who knows that old age is beginning to get its hooks into him but who's willing to adjust his expectations and still enjoy life.
The movie, which played at the New York Film Festival last fall and opened in the U.K. around the same time, was one of four movies in which Broadbent appeared in 2013. He also had a major role in last year's two-part BBC mini-series, The Great Train Robbery.
It's not as if Broadbent is planning on taking a well-deserved rest after his hectic year. According to IMDB.com, he has already completed shooting on four movies due for release this year, is currently filming Get Santa (he plays the jolly bearded fellow in the red suit) and is slated for a role in yet another film after that.
Despite his busy schedule, Broadbent said in an interview in the Telegraph last October, "I don't think I'm as passionate about acting as I was when I was younger. Then it was a complete obsession, like a new love affair. I don't think I'm as ambitious either – that's another effect of winning an Oscar." (He won his Academy Award for Best Supporting Actor for playing John Bayley, author Iris Murdoch's supportive husband, in 2002's Iris.)
In the same interview, Broadbent spoke about how his acting style has changed, and deepened, over the years even as it has grown less showy: "Trying to work with finer brushes as it were," he said. "As you get older you do have more resonance behind you. When you're young and you do nothing, it's just nothing. But now there's more texture to doing nothing – at least I hope so."
Do you plan to see Jim Broadbent in Le Week-End?     
See More: 
WATCH: Jim Broadbent and Lindsay Duncan Behaving Disgracefully In 'Le Week-End'
Jim Broadbent: "Colin Firth Told Me Mr Darcy Is Dead"
Jim Broadbent Chats Meryl Streep and 'The Iron Lady'
Read More