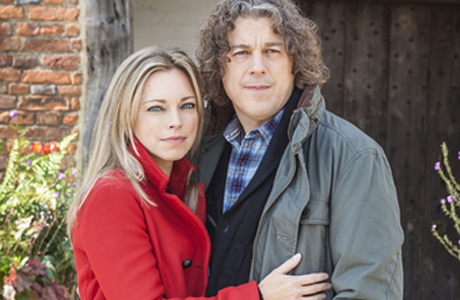 Jonathan Creek has been airing on-and-off for the past 17 years, starring actor and comedian Alan Davies. After a ten-year hiatus since being seen regularly on television, not including specials, the popular show has made its return with a three-part series, reports RadioTimes.
The first installment, "The Letters of Septimus Noone", aired this past Friday (Feb. 28) and was well-received with 6.33 million viewers tuning in.
Davies gives credit to his character's likability saying, "Jonathan Creek is popular because he's an ordinary guy."
Creek still has the same curly mop of hair but he's a bit older and is settled down with a wife. And, he married well, tying the knot with Coupling's Sarah Alexander. He's given up city life for the quiet section of town on the outskirts of London.
Davies talks about his character entering into courtship, telling RadioTimes, "The fact that he's married may be tied to the fact that I'm married. It always said something about Creek that he'd completely withdrawn from society and other people; now it says something about him that he's re-entered the atmosphere and is able to sustain a relationship."
It's almost as if Davies was cheering for Creek to find love, going on to say, "You couldn't just leave him in the windmill forever, making up tricks."
While domesticated and having picked up a day job at an advertising agency, Creek still has some spring in his step and hasn't put his mystery solving on the shelf just yet.
Guess we're stating the obvious … because there wouldn't be a show then.
With that said, you can take a peek at clips for the new season here:
What's your favorite Jonathan Creek episode?
See More:
What Are Brits Watching?: 'Jonathan Creek'
Jonathan Creek Has Solved the Mystery of 'Sherlock's Death Plunge
Steven Moffat: "'Sherlock' and 'Doctor Who' Are Obtusely British"
Read More
Filed Under: