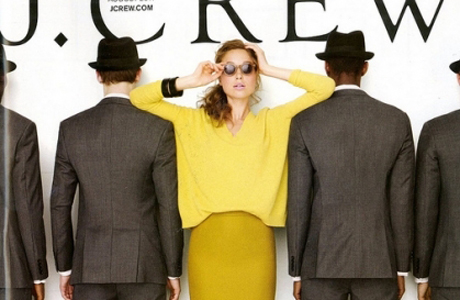 You might live in America but do you dress the part? U.S. consumers seem less susceptible to fashion faddiness than Brits, and more centered on timeless classics like decent jeans and a well-fitting t-shirt. British expats looking to blend in should try these excellent all-American brands.
J. Crew
This scholastically-styled brand isn't afraid to push color—or your budget. By British high street standards, it's a little bit spendy, but there's no better brand this side of the Pond for classic, beautifully cut clothes and shoes. The ladies love JC's pencil skirts and ballet pumps, while slim guys searching for the perfect skinny suit need look no further than the Ludlow.
American Apparel
On the surface, this is a certain type of good-looking young person's brand. If you're not under 27, twig-like and oozing '80s androgynous cool you're not welcome. At least that's the vibe. If you can bear the sneers of the prepubescent teens who work behind the till, American Apparel sells great basics for men, women and kids of all ages. My one-year-old spends most of her life romping around in their onesies while my husband and nearly 60-year-old father swear by their Ts.
L.L.Bean
They started out over 100 years ago—in Maine—as purveyors of outdoor gear. Now, they're as famous for their well-made, if unadventurous, apparel as they are for their signature hunting boots and shoes.
Threadless
This Chicago-based internet clothing company is the go-to for anyone who enjoys a kooky T. The site feature thousands of t-shirt designs created by an online community and voted for by the public. The inventory is refreshed every week, yet you can find your favorites year after year.
Schott
Where did James Dean and Marlon Brando get their biker leathers? Here. Or at least, that's where their wardrobe people shopped. You should too if you want a classically cool American jacket – be it bomber, biker or reefer.
Club Monaco
The name screams Europe but the brand is, erm, Canadian. But we're including it on a technicality: in 1999 Club Monaco was bough by American clothing giant, Ralph Lauren. It's like a more conservative J. Crew. Great knitwear and what Americans call "sport coats" but are, in actual fact, blazers.
Lands' End
Originally a catalog-only retailer, now the majority of this clothing company's business happens online. It has a markedly "mom" feel, but there's not so much wrong with that. The clothes are great quality. Plus, look closely and there are all kinds of useful basics that could pass for being from somewhere much cooler. It's America's answer to Marks and Spencer—alas, without the knickers and bras.
Banana Republic
For preppy clothes to wear in the office, head here. It's Gap meets Swedish label, Cos. No one boasts about shopping in BR, but everyone does it.
7 For All Mankind
Want the perfect pair of jeans? I mean really, really perfect? Then this is your brand, especially if you're female. They do make men's jeans, but I'll confess to not knowing a great deal about them. I will say this: boys could do worse than to head to Rag and Bone, which though founded and based in NYC, is run by a couple of Brits, so to include it here feels like cheating. Anyhow, 7FAM jeans are the business. They're also a tad expensive.
Old Navy
Owned by Gap, this low-end clothing brand is good for casual wear, basics and kids clothes. It's not Primark cheap, but it's in line with major European high street stores like H&M and New Look.
Join @MindtheGap_BBCA on Twitter on Wednesday (April 2) at 2 pm ET to discuss differences in dress code and fashion between the U.S. and U.K. Tweet your thoughts and questions to our panel using the hashtag #MindTheChat.
Are any of these brands new to you?
See More:
A Dress Code for Brits in America
What Not to Wear in the U.S.
How to Dress Like Doctor Who
Read More
Filed Under: