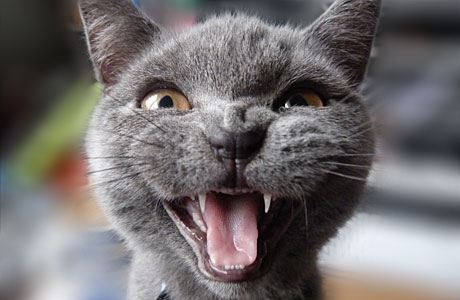 If you're a busy commuter, with a job that demands a lot and leaves no time to look after a pet, you'll have probably felt the sad ache of realisation that the stress-relieving, cuddly joys of stroking a cat while sipping a hot beverage will probably have to remain beyond your reach.
But what if there was a place you could go that would offer all of the warm joys of a furry, fuzzy, purry welcome when it suits you, without all of that tiresome feeding, emptying of litter trays, letting your pet in and out when you're home and picking up the tiny scraps of dead things that they leave you as a present? Wouldn't that be something?
Well, allow us to introduce you to Lady Dinah's Cat Emporium in London's trendy Shoreditch (people who know London will be rolling their eyes and going "well of COURSE it's in Shoreditch").
Here, you can go for a coffee in between busy meetings, and take some time out with a furry friend on your knee. It's partly a home for rescued cats, with all the medical backup and care facilities one would expect, and partly a tea shop offering cakes and beverages.
Inspired by the cat cafes of Tokyo, Lady Dinah's—which has been partly crowd-funded by Indiegogo—promises a particularly warm welcome to guests of either species.
According to their website: "Our venue is designed with the emotional and physical needs of our resident rescue cats in mind and our induction process for the cats is long and gradual to help give them the time, space and resources they need to form a harmonious household. We provide a safe, comfortable place to live and a home where they can exhibit their full range of natural behaviours.
"At Lady Dinah's, visitors will have the opportunity to kick back and relax with a cup of tea and spend time in the soothing company of our purring feline friends."
And don't think for a moment that this is all about your needs: "Cats will have free choice at all times to stay indoors with patrons, or relax outside for some time-out in their private two-story, cats-only garden."
You, as a human, don't get a two-storey garden. You just get cats. 
See more:
Idris Elba Creates a Global Man Panic
Massive Hedgehog Invades London
Is The Loch Ness Monster Dead?
How To Open A Bottle Of Wine With A Shoe
Read More
Filed Under: