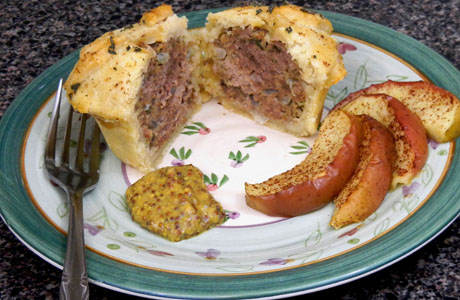 English couple Wendy Carter and fiancé Ryan Barraclough's big day was cut short when a pork pie was thrown across their wedding reception, resulting in three arrests, reports UK Express.
The wedding and reception took place at The Harold Club, located at 393 New Works Rd in Bradford, West Yorkshire, England.
Chris Sowden, an administrator at The Harold Club, said guests had begun drinking at 2pm and by 7pm tension was growing. He went on to explain, "It all started with a water pistol and then a pork pie got thrown. It was completely out of control and by the end about 30 to 40 guests had got involved."
The West Yorkshire Police were called just after 7pm. Two people were arrested for assault and have since been released on bail. A third person was arrested for a "public order" matter. The wedding came to an end at 8pm.
After it was all sorted the WY Police Dogs posted to their Twitter account:
Tia to Bradford to large fight at a wedding & assistance call from officers. All started over a pork pie apparently! #clubclosed #dayruined

— WY Police Dogs (@WYPDogs) February 15, 2014
That seems a bit odd, but possibly the law enforcement is using public embarrassment as a tactic?
The young couple, both 27, were pretty light-hearted about the whole thing by the next day saying, "You've got to expect a good punch up at a wedding."
Weddings can get emotional, have you ever witnessed a brawl?  
See More:
The Police in England Use Cheeky Tactics with Hand-Written Note and Tweet
Liverpool Man Pulls Desperate Stunt to Stall Wedding
Welsh Woman Makes Declaration of Divorce in Pub Sign
Read More
Filed Under: