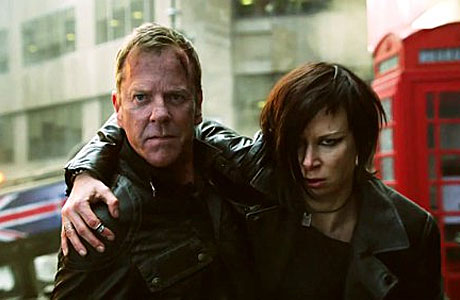 Jack Bauer (Kiefer Sutherland) is in trouble. He's under attack, there are helicopters overhead and he's holding up an injured Chloe (Mary Lynn Rajskub) as he raises his gun and, screaming, fires.
But there's an extra puzzle. In the new series of 24, which has been given the James Bondish title 24: Live Another Day, he finds himself in a European city, having to abide by foreign rules and adapt to a foreign culture.
Just by watching this trailer, see if you can work out which city he is in:
https://www.youtube.com/watch?feature=player_embedded&v=fo4_r5RlBII
It's a puzzle, isn't it? These photos may help. Or a fish and chip supper and a fresh pot of tea for all concerned.
24: Live Another Day, starring Keifer Sutherland, comes to Fox on May 5. And Stephen Fry will be in it, which may provide another clue if you are stuck.
See more:
Create Your Own Personalized London Undergound Informational Tube Sign
WATCH: The London Underground Sings Blur
Lego Strikes Again: 150th Anniversary London Tube Map Unveiled
WATCH: Florence Welch Makes Surprise Performance in London Pub
 
Read More
Filed Under: