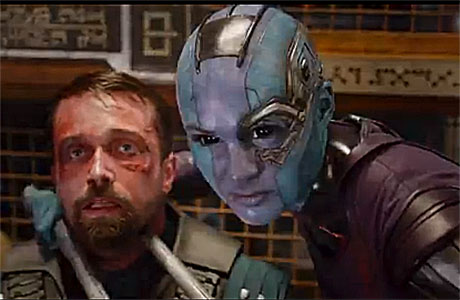 Granted, this is a slightly topsy-turvey way to approach Marvel's latest adventure: a space romp in which Chris Platt plays a smart-alec American space pilot who finds himself on the run with a gang of odd new friends after stealing a powerful and mysterious orb.
But look! THIS is why Karen Gillan had to cut all her hair off!
Here's a 15-second teaser trailer:
Karen plays Nebula, a female villain with a nasty streak a mile wide and a metal plate on her skull. She works for Ronan the Accuser (Lee Pace), the rotter that wants to use the orb to destroy the galaxy.
It's an all star affair, with appearances (real or in voice only) from Bradley Cooper, Vin Diesel, John C. Reilly, Peter Serafinowicz, Zoe Saldana, WWE star Dave Bautista and Benecio del Toro.
The full-length trailer aired on Jimmy Kimmel Live last night, and it's here:
Take a bow, Karen.
Guardians of the Galaxy will be in theaters on August 1.
See more:
Karen Gillan Scores Lead in ABC Sitcom Pilot, 'Selfie'
Five Adorable Karen Gillan Moments To Celebrate Her Birthday
WATCH: Karen Gillan In 'Not Another Happy Ending' Trailer
WATCH: Karen Gillan's 'Walking Dead' Skin Care Ad for 'Nerdist'
Read More
Filed Under: