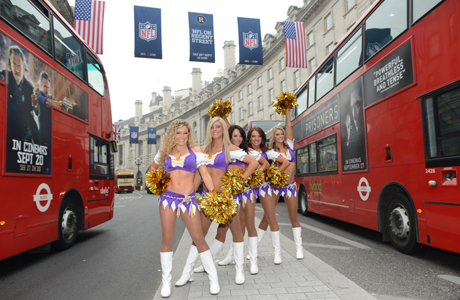 In the mid-1980s, before phones were smart and Nintendos were super, American football was surprisingly popular in the U.K.  At its peak in 1986, over 4 million Britons tuned in to watch Channel 4's coverage of the Super Bowl game between the Chicago Bears and New England Patriots.
Remarkably, when you consider the world of instant information in which we now live, Channel 4's NFL show of the 1980s was airing highlights from the previous week's games to audiences who had no other means of finding out the scores (what a nostalgic innocence there is to that thought).
And while 4 million viewers may not seem like a big number compared to American figures, it's worth noting that out of a population of 56 million, that was 1 in 14 Brits. Without doubt, a dedicated fan base of NFL enthusiasts thrived in Thatcher's Britain.
But in a country where soccer has always been the national obsession, what did these early British NFL fans see in a sport that must've seemed like it came from outer space?
"I just found the whole spectacle really exciting, even though I didn't understand much about the game," says Andy Buncall, an Indianapolis Colts fan from Leeds.
But being a young fan in the 1980s wasn't without problems of the age.
"I remember running home from school one Monday to watch the Super Bowl I'd taped from the night before," adds Andy, "only for my excitement to turn to devastation when my VHS tape ran out part way through the half-time show."
Unfortunately, much like Channel 4's coverage of the South Asian game Kabaddi (basically red rover on crack), the NFL's popularity waned in the early 1990s, and it became a forgotten sport of the bygone era of terrestrial television. This demise coincided with the rise of Sky Television and its successful partnership with the newly founded Premier League.
Interest in the NFL across the pond never completely died out, though. Devoted fans held onto the game through a combination of the Internet, Sky Sports coverage and the popularity of the Madden video games. And new home technologies like TiVo meant fans could record games without fear of being let down by limited analog machinery while watching them back.
Modern conveniences aside, British NFL fans have had a tough time dealing with the social stigma attached to following a sport that many of their compatriots feel has no business even calling itself "football" in the first place.
"There are always comments from my mates," says Arizona Cardinals fan Jacob Heather, a teacher from Peterborough.  "It's usually stuff like 'rugby players don't need pads – American football players are soft', or 'why's it called football when they don't kick it?' But people who say this kind of stuff are ignorant and don't understand the game."
As any sports fan will tell you, half the fun of watching games is catching them live as a shared experience.  However, global time zones and a relative lack of interest in the sport have made this an almost impossible dream for British NFL nuts. The Thursday and Monday night games, for example, don't kick-off until 1:30 a.m. U.K. time.
"It can be tough," says Patrick Jones, a Washington Redskins fan from Norwich. "A lot of the time you can't find a bar that stays open late enough, never mind one that's willing to put American football on. So most of the time I watch pre-recorded games alone on my couch."
There is hope for people like Patrick, though.
A generation on from its 1980s introduction, American football is currently enjoying a resurgence in popularity in the U.K. The renaissance is owed chiefly to the NFL's International Series, which, since 2007, has been exporting regular season games to sell-out crowds at London's Wembley Stadium.
And last year, Channel 4 brought the NFL back to terrestrial television, reopening the door to a wider British audience.
All of this fanfare has culminated in talk of an NFL franchise being permanently based in London sometime in the not-too-distant future. There are currently a lot of unanswered logistical questions with regard to exactly how this would work, but the point is the NFL believes there's a gap in the market. In a press release issued last October, the NFL proclaims a current British fan base of more than 12 million people (although the release doesn't mention where it got that figure from).
The introduction of a London-based team would of course mean asking current British fans to switch team allegiances, something many would not be willing to do.
"Brits are very loyal," says Arizona fan Jacob Heather. "I couldn't ever imagine supporting another team but the Cardinals."
"I don't think it's a good idea," agrees Colts fan Andy Buncall. "I love the NFL as it is: an American sport with authentic American culture. The current British fan base is full of people like me who have stuck with the same team for decades."
The future of Britain's relationship with American football will depend on what makes sense commercially, but if the London franchise were to happen, it would be a significant play by the NFL as they look to expand into other markets. Only time can tell if the U.K. is once again ready for a second brand of football.
See more:
A Confused Brit's View Of American Football
Personality Quiz: Which British Villain Are You?
Read More
Filed Under: