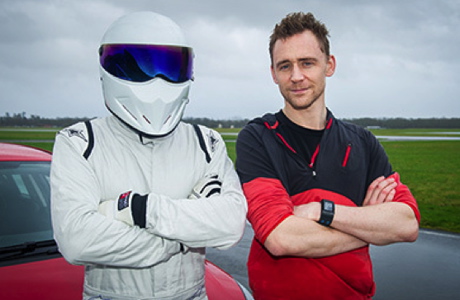 Everyone keeps searching for the secret recipe of success of Top Gear, the world's most watched factual program, which is now in its 21st season. And who is better situated to opine on the reasons for that success than the man in charge of actually making the program, executive producer Andy Wilman? A few weeks ago, Wilman suggested that what might be behind the show is that it's "aimed at people with a mental age of nine."
This week, Wilman offers insight into season 21, about which he says he's "quietly confident." He describes last week's show as "ridiculous" and suggests that the ridiculousness "grows to stupid proportions." He also says that the show's "monster" Christmas show, which will be coming out sometime around March and documents the boys' trip to Burma, or Myanmar as it's now called, is the "toughest one we've ever done" – and  that's saying a lot.
But why listen to us when you can hear it from Andy himself:
• The Telegraph weighed in on the secret of Top Gear's success this week, suggesting that some of the possible ingredients are "the endless acres of gleaming bonnets, the reliably ridiculous explosions, the symphonic vrooming of overpowered engines." But the paper wrote that "it's the presenters' unpretentious enthusiasm that closes the deal."
The Telegraph added: "The three musketeers of unabashed auto lust, Jeremy Clarkson, Richard Hammond and James May have kept the franchise revving loudly with their cocktail of every-bloke bonhomie and genuine passion for all things petrolhead."
• Next week's visiting petrolhead is actor Tom Hiddleston, the episode's Star in a Reasonably Priced Car. A few weeks back, Hiddleston, who played the bad guy Loki in Thor, was a poster boy for British villains in Jaguar's Super Bowl commercial. This week, he's trying to break the records of his celebrity colleagues in a Vauxhall Astra, and TopGear.com has this exclusive behind-the-scenes look at Hiddleston's visit to the show,which premieres Monday, February 17 at 8:30pm/7:30c on BBC AMERICA.
• On a more serious note in next week's episode, James May goes to Camp Bastion in Afghanistan, where he reports on the myriad military vehicles in use there. In an interview with British Forces News, May said the segment was "about the improvements in military vehicles – an excuse to drive some interesting stuff about but also to talk about redeployment and all the admin and how difficult it is and how massive it all is." One of the officers deployed in Afghanistan said that May rightly earned his nickname of Captain Slow:
• Also on next week's show: Richard test drives a new Alfa Romeo around northern Italy's Lake Como – as Jeremy, taking the wheel behind a hybrid jet ski/bike contraption, challenges the Hamster and his high end sports car. And we finally get to see Jeremy's much touted rendezvous with the McLaren P1. ("How did they make something this fast?" asks Jeremy behind the wheel. "They should have called it the 'widow maker'.")
For more from Season 21, Episode 2, check out BBC AMERICA's photo gallery from the show.
• Here's more on the recreated '80s police chase segment on last week's show. In case you missed it, or want to relive the excitement, here's an excerpt:
And now here's a special behind-the-scenes look at all the moustaches involved:
And we shouldn't need to say this, but no moustaches were harmed during the filming of this episode.
Read More
Filed Under: