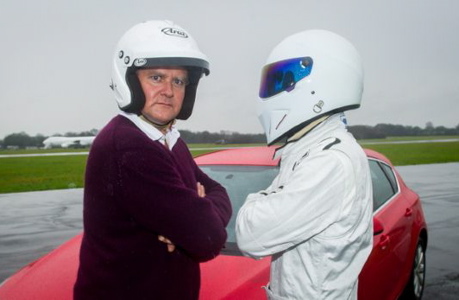 Downton Abbey's Lord Grantham in blue jeans, sneakers and a white racing helmet? That's what you'll see on the BBC AMERICA premiere episode of season 21 of Top Gear, as actor Hugh Bonneville trades a stately mansion for a bright red Vauxhall Astra.
Perhaps the storytelling speed of Downton Abbey, which can chronicle the lives of a dozen or more characters over several years in the space of just a few hours, will give Bonneville the boost for literal acceleration around the Top Gear track. You'll find out Monday night (February 10) at 8:30 p.m./7:30c. But in the meantime, here's a special chance to go behind the scenes with Bonneville, courtesy of TopGear.com, in outtakes from the segment you won't see on TV:
But the visit from a Downton Abbey star is just one of many highlights on Monday's premiere episode. Among other things, Jeremy Clarkson, Richard Hammond and James May seek out the beloved hatchbacks of their youth and take them on a timed rally in supermarket aisles (!) (and also on a hill climb). And they see whether they can elude capture while they are pursued, 1980s cop movie style, by tanks and drones. Expect even more mayhem and explosions this week than usual.

Oh, and because the show is meant to recall the magical era of the 1980s, there will be mustaches:
• The Daily Mail caught up with Jeremy Clarkson and James May biking in central London last week. The paper said they were being filmed by a camera crew, so it's a pretty safe bet that we'll see these two Top Gear hosts on bicycles at some point this season.
• Wharf.uk.com offers the following headline: "16 reasons why Top Gear and Sons of Anarchy are the same program, only different." How do you tell the two shows apart, asked the website? "One is a tale of rogues blasting rival gangs in violent street brawls and the other is Sons of Anarchy," writes the Wharf. Specific similarities: No. 1: "It's about male bonding." No. 2: "It's about the road." And No. 16: "It's about an hour long." For all 16 reasons, click here.
• Next time you see The Stig, you can say, "There's an app for that!" Or rather there's an app for you—to help turn yourself into The Stig. The app allows you to take your photo and easily have it appear in The Stig's helmet. (via digitaltveurope.net)
• Richard Hammond has lent support to new books about brain injury aimed at children and families. Hammond, who himself suffered a serious brain injury while driving a race car, said, "This is a wonderful, colorful way for families touched by brain injury to explore the issues they may face." Hammond is vice president of The Children's Trust, a U.K. charity that focuses on helping children with brain injuries and that is publishing the new books. (via the Worcester News)
• You may remember that last week, we took a look at Jaguar's Super Bowl "British villains" commercial. TopGear.com actually visited the set in Greenwich, where the spot was shot and spent some time with the commercial's director, Tom Hooper, who also directed the feature films The King's Speech and Les Misérables.
http://youtu.be/0zO4H-IStMU
"There's something about being cerebral, intellectual, and yet emotionally repressed," said Hooper about British villains. "If you think someone's doing this stuff and they're in complete control, well that's more scary than if they're out of control."
Hooper added: "That knowingness is part of the tradition of British villains. A British villain never loses their sense of humor."
TopGear.com also spoke to Ben Kingsley, featured in the commercial, and it turns out he's a big fan of fancy cars.
"I love architecture on wheels. That's how I describe a good car," Kingsley said. "Obviously mechanically it's got to be superb, but the look of it is what I walk towards with the keys in my hand. Richard III definitely would have had a chauffeur driven Jaguar MK X."
Read More
Filed Under: