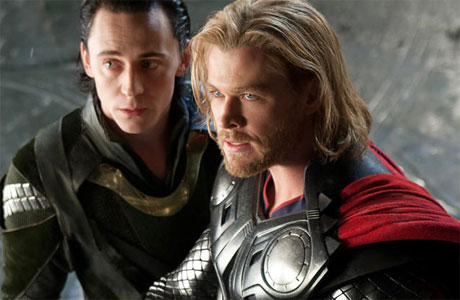 Tom Hiddleston has given a lovely interview over at the UK Huffington Post in support of the Blu Ray/DVD release of Thor: The Dark World, in which he reveals that fans have started writing their own narratives about what he is and isn't good at, based on certain things he's expected to do on screen when playing Loki.
He explains: "I've had some very strange fan mail over the years. There's a moment in the first Thor movie where Thor and Loki are engaged in a fight. I have a spear in my hand and I make a huge leap to spear Chris – but he dodges out of the way. The spear is embedded into the ground, so I use the spear as a lever to spin myself around and kick him in the chest. Well, some fans have interpreted this as emblematic of my hidden talent at pole dancing. I've received a surprising number of depictions of myself in a pair of tight briefs and a horny helmet dancing on a pole. That is pretty weird and hilarious."
And when asked whether he had a mischievous a childhood as Loki, he said:
"I was quite mischievous, certainly with my sisters. However, I never tried to subjugate the Earth.
"Once, my cousin and I thought it would be fun to hide underneath our beds at bath time. We were four or five years old, and we were in the middle of a game, so we didn't want to sit in the bath. We stayed there for hours, but we decided to come out when my aunt picked up the phone to call the police. I'm generally well behaved now, but that was 25 years ago. That's the sort of thing you do when you're five, right?"
He also explained how he came to appear in the now highly-prized, musclebound audition clip for the lead role in the first Thor movie, saying that it was during his first trip to LA for casting calls.
"I auditioned for everything under the sun: television series, films that you've seen, films that have been huge hits – and films that haven't. Thor was one of them and it was a potential opportunity for me because I had a connection to Kenneth Branagh; I'd worked with him in the theatre. I thought, 'At least there's someone in this world of Hollywood who I don't have to prove something to because he knows I can act.' It was just a matter of trying to prove it to the studio, so I had to audition."
http://www.youtube.com/watch?feature=player_embedded&v=hNBIn7xfO2E
He continued: "I'm really proud of the audition. It proved a lot to me as an actor because I've never committed so much to an audition before. The guys at Marvel called and said, "Can you put on as much muscle as you can in six weeks?" So I went from 180 pounds to 198 pounds and I had 7% body fat. I've still got the pictures to prove it. I've never challenged myself like that before. I basically showed myself what was possible." 
And thankfully, having done all that work, Sir Ken's decision to cast Chris Hemsworth as Thor proved to be Tom's exceptional good fortune. Something he'll readily admit:
"In a way, it was a gift – and I have no regrets about it at all. I've never once thought, 'I wish I were playing Thor.'"
See more:
Tom Hiddleston's Video Shout-Out to 'Elle Magazine' for Being Voted Man of the Year
Top Gear Thursday: WATCH – Season 21 Secrets Revealed, Tom Hiddleston Stops by for a Spin
Tom Hiddleston To Star In Ben Wheatley's 'High-Rise'
WATCH: Tom Hiddleston As Loki As Captain America
Read More
Filed Under: