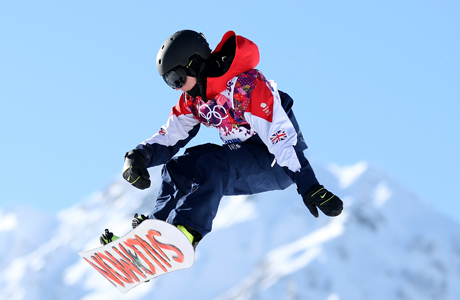 The 2014 Olympics, which are being held in Sochi, Russia, have been overshadowed by unexpected lodgings for visitors and media. That's neither here nor there with the games kicking off today, February 7. The Olympics are about the committed, talented athletes and their sports with the focus now shifting to the events (we hope). While reporters may have to scavenge for light bulbs to write up their reports, the Olympic Village is primed and ready to go. Team GB brought home one medal at the Winter Games in Vancouver 2010, and their aim is set high this year, hoping for three to seven medals. We're cheering for all of Team GB, but here are five athletes to keep an eye on:
1.  Jamie Nicholls

Sport: Snowboarding
Event: Slopestyle
Residence: Bradford, England
Olympic Experience: This will be Nicholls first time competing at the Olympic games. This is the first time snowboarding slopestyle is in competition at the Olympics.
Leading up to 2014: Nicholls is already in competition and has qualified for the 2014 Olympics slopestyle finals on Saturday, February 8 based on his second run, scoring him an 86.75, reports the U.K. Independent.
2. Eve Muirhead 
Sport: Curling
Event: Women's Curling
Residence: Stirling, Scotland
Olympic Experience: At just 19 years old, Muirhead took on the role of skip, which is the curling team captain, during the 2010 Olympics. Eva and her team came in 7th place.
Leading up to 2014: Muirhead competed in the 2013 Women's Curling Championship, in Riga, Latvia, taking home the gold medal. 

3. Elise Christie


Sport: Short track speed skating
Event: 500m, 1000m, 1500m
Residence: Nottingham, England (Born in Livingston, Scotland)
Olympic Experience: Christie debuted at the Vancouver Games, competing in the 500m, 1000m and 1500m events, placing 11th, 20th and 19th respectively.
Leading up to 2014: Christie achieved a World number one ranking in the 1000m last year, becoming the first British woman to win an individual medal at the World Championships in 2013.
4. John Jackson
Sport: Bobsleigh
Events: Four-man, Two-man Pilot
Residence: Trowbridge, England
Olympic Experience: Jackson and his teammate Dan Money competed in the 2010 Olympics in Vancouver, Canada, but were disqualified following a crash.
Leading up to 2014: Jackson and his 4-man team took home the silver at the 2013 Bobsleigh Wold Cup, which took place in Lake Placid, New York and  fifth at the 2013-14 Bobsleigh World Championship, in St. Moritz, Switzerland, this past Sunday, February 2, 2014. 

5. Katie Summerhayes


Sport: Freestyle Skiing
Event: Slopestyle
Residence: Sheffield, England
Olympic Experience: At 18-years-old, this is Summerhayes first time to compete in the Olympic games. The Slopestyle event will be making its Winter Olympic debut in Sochi.
Leading up to 2014: Summerhayes took home her second World Cup silver medal on January 18, 2014 after competing in Gstaad, Switzerland. In February 2013, Summerhayes was the first female British freestyle skier to win a World Cup silver medal in 19 years, competing in Silvaplana, Switzerland.
Do you have a favorite event you're looking forward to? 
See More: 
Summer of London: Team GB at the Games
Team GB Takes 29 Medals Total at Summer 2012 Olympic Games
Five Ways London Changed for the 2012 Olympics
Read More