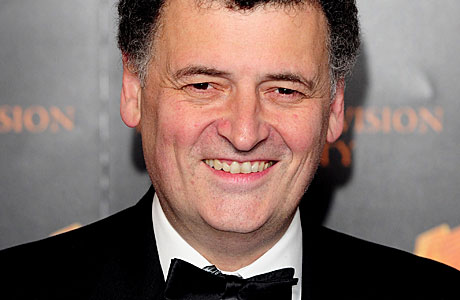 Steven Moffat is more than qualified to comment on the way foreign territories enjoy imported TV shows. The two series he is most closely associated with—Doctor Who and Sherlock—both have huge worldwide audiences and have made international stars of their leading actors. However, one thing he is clear on is that the best way to make a TV show a success is to think locally.
Speaking at last week's BBC Worldwide showcase, in which executives from global TV networks decide which BBC shows to syndicate, he explained why some shows get remade for local audiences, and why it's important for creatives not to try and appease a global audience at the expense of a homegrown one.
When asked why his early-2000s BBC comedy series Coupling was remade by NBC for an American audience (it lasted four episodes), rather than just syndicated, he replied:
"We mostly watch shows made by our own country. There are no shows from America that are big hits in Britain. They're all minor hits. Your mates may talk about them but no-one's watching them. They're getting squashed by the locally-made shows. Always."
And while it's true that there are certain channels that appear to depend on repeats of hit American cartoons and comedies for their viewers, it's certainly the case that the Top 10 shows in Britain are British shows, whether that's primetime talent searches, soaps, comedies or dramas.
There are, of course, some exceptions, with Doctor Who being a prime example. Not just popular on a worldwide level, it's so distinctively local in outlook that a remake of any sort would destroy what makes it work in the first place.
"Doctor Who's everywhere," he said. "You can bump in to the Doctor anywhere," adding that the series has, "probably penetrated enough that it's no longer regarded as an import, it's just that show."
"Sherlock and Doctor Who are both doing rather well but they couldn't be more definitively British. They're obtusely British. They're about as British as it gets. You shouldn't be afraid of being British because that's what you're selling."
And of course, if a remake were to be proposed and the Doctor were no longer British in demeanor (albeit British via Gallifrey), would he even be the Doctor?
"If anyone were to ask me, I'd say it's an absolutely insane idea. You couldn't have more than one Doctor Who in the world. It would just be dreadful."
It would certainly make for busier panels at Comic-Con.
See more:
10 Reasons Why Steven Moffat's 'Sherlock' is the Best
Steven Moffat Conducts Interview with Benedict Cumberbatch
Steven Moffat: "Why Would We Make 'Sherlock' Into A Movie?"
Steven Moffat Adds Further Twists To The Regeneration Riddle
Read More
Filed Under: