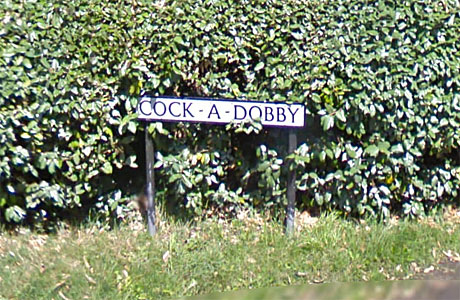 As anyone who has ever seen Benny Hill in action can confirm, the British are a nation obsessed with innuendo and saucy slang. They've been twisting the meaning of innocent words to make them smutty for centuries.
However, when looking over the list of most embarrassing street names compiled by the property site NeedaProperty.com (and voted by their readers), it's hard to work out exactly what was going through the minds of some town planners, beyond total filth, that is.
In reverse order, here's the Top 10:
10: Cock-A-Dobby — Sandhurst, Berkshire
It doesn't matter which number you live at, saying your address is going to feel like the first line in an obscene nursery rhyme. Even more so if you're a Harry Potter fan.
9: Cumming Street — Islington, London
Local residents all claim it was named after Alan, probably.
8: Cockshoot Close — Stonesfield, Oxfordshire
No matter how you interpret it, it's disturbing.
7: Turkey Cock Lane — Stanway, Essex
What? It's a male turkey.
6: The Knob — Kings Sutton, Northamptonshire
Not named after the British slang for the male member, but still. Would you want to live in a street called John Thomas?
5: Crotch Crescent — Marston, Oxfordshire
No double meaning here. Someone really wanted to name a crescent after a crotch.
4: Bell End — Rowley Regis, West Midlands
Bellend is one of the finest British terms of abuse, named after the uppermost part of the male member. In extra town-planning fun, the map of Bellenden Gardens in Edinburgh looks incredibly phallic.
3: Fanny Hands Lane — Ludford, Lincolnshire
You, er, you know fanny doesn't mean bum in Britain, don't you?
2: Slag Lane — Lowton, Lancashire
Almost certainly a coal reference, but slag is also a derogatory term for a girl that puts it about. Living there would not be easy to live down.
1: Minge Lane — Upton upon Severn, Worcestershire
Again, only ever really used as a slang term for female genitalia, although there's a whole village called Minge in Azerbaijan, and a (presumably far classier) village in Lithuania called Mingė.
See more:
The 20 Rudest Places In Britain
10 Stinging British Insults
How To Pronounce Deliberately Off-putting British Place Names
15 Good Reasons Why Brits Don't Use The Name 'Randy'
Read More
Filed Under: