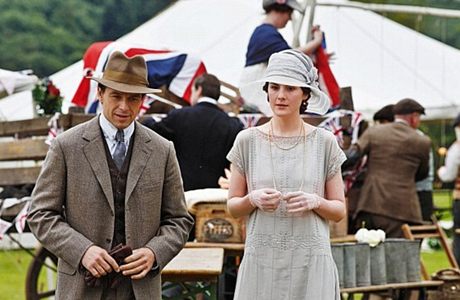 Downton Abbey was as busy as London's Paddington Station with all the comings and goings in Season Four's seventh episode. Lady Mary's various beaus kept popping up like toast, Aunt Rosamund paid a visit and the entire village descended on the estate for the annual church bazaar. In between, there were multiple declarations of love, an engagement and the off-screen death of a dastardly villain.
Isobel Crawley (Penelope Wilton) pays a call on her frenemy, Violet, the Dowager Countess (Maggie Smith). "It's only me," the self-effacing Isobel says as she comes through the door.
"I always feel that greeting betrays such a lack of self-worth," Violet responds.
Their shared night of saving the pigs from dehydration in the previous episode has clearly brought Lady Mary (Michelle Dockery) and Charles Blake (Julian Ovenden) closer together. When Violet starts to make a dig at his expense, Mary tells her, "Don't be too hard on him, Granny. Mr. Blake has a softer side than we first gave him credit for." He further endears himself to Mary by volunteering to hold her infant son George in his arms.
Mary's former suitor, Lord Tony Gillingham (Tom Cullen), writes to say he's going to stop by Downton on his way back from a visit to Scotland. Mary's lady's maid, Anna Bates (Joanne Froggatt) is disturbed by the news and confesses to Mary that it was Gillingham's valet, Green (Nigel Harman), who raped her several episodes back. Anna is afraid of what her husband, valet John Bates (Brendan Patrick), will do if he finds out that Green was her attacker.
Former footman Alfred Nugent (Matt Milne), now training as a chef at the Ritz hotel in London, proposes marriage to kitchen maid Ivy Stuart (Cara Theobold) via a letter. Hearing the news, Mrs. Patmore (Lesley Nichol) observes, "Blimey, he puts a lot in a letter, does Alfred." Ivy informs Mrs. Patmore that she's going to write back and say no.
In town while running errands with Isobel, his new BFF, Tom Branson (Allen Leech) spots Cousin Rose (Lily James) having a cozy date in a tea shop with band leader and singer Jack Ross (Gary Carr), who's African-American. Later, he and Isobel run into the attractive woman whom Tom sat next to at a political speech in the previous episode. She's Sarah Bunting (Daisy Lewis), a teacher at the local school. Upon learning Tom's name, she makes a snide crack about his working for the Crawleys. "She knows her own mind," Isobel says approvingly to Tom after they take their leave.
Downstairs at Downton Abbey, newly rehired Thomas Molesley (Kevin Doyle) makes nice with Baxter (Raquel Cassidy). He tells Cora's lady's maid that no one among the servants holds it against her that she was brought into the place by scheming footman Thomas Barrow (Rob James-Collier).
Aunt Rosamund (Samantha Bond) arrives at Downton, allegedly to check on her mother, the Dowager, but really to check on Lady Edith (Laura Carmichael), who is preggers out of wedlock. Edith has hatched a plan to give up her baby to a local tenant farmer and his family. Rosamund enumerates to Edith all the reasons that's a lousy idea. She instead proposes that the two go off on an extended trip to a foreign county and let a couple there adopt Edith's illegitimate infant.
Rosamund pitches her plan to the family, claiming that she wants to brush up on her French but prefers to do it in Switzerland. "You know what the French are like and Switzerland is so wonderfully clean. And they have wonderful hospitals, er, in case we should get sick," she says.
Tony arrives and announces that he spent his time in the Highlands thinking about his life. Violet doesn't approve. "No life appears rewarding if you think too much about it," she pronounces, offering one of her smug, self-satisfied smiles.
Charles is still at Downton, too, and he tells Tony about his and Mary's long night spent saving the pigs. "Lady Mary was perfectly splendid," Charles enthuses.
"Lady Mary is perfectly splendid," counters Tony.
Downstairs, Tony's evil valet, Green, has joined Downton's servants for a meal. Bates seemingly casually asks Green where he lives in London.
Mary, having been told by Tom about Rose and Jack's tea shop date, summons her young cousin for a talk. Before Mary can say much, Rose gets on her high horse. "I love him and I won't listen to any imperialist nonsense about racial purity," she says, adding that she intends to marry Jack and can't wait to see her own mother's outraged reaction.
Charles is getting a lift back to London with Tony. "I couldn't leave Charles here alone with you," Tony tells Mary, having clearly recognized a potential romantic rival.
The next day, Lady Mary announces that she's heading to London and taking Anna with her. Bates asks Mr. Carson (Jim Carter) if he might have the day off, to visit York, where he claims to have business he needs to take care of.
Violet demands that either Edith or Rosamund tell her the truth about what's going on. She says she's not buying the off-to-study-French-in-Switzerland story. "Rosamund has no interest in French. If she wishes to be understood by a foreigner, she shouts," says Violet.
"If I told you the truth, Granny, then you'd never speak to me again," says Edith,
While driving, Tom spots Sarah stranded on the side of the road with a busted car. He surprises her by telling her that he used to be the chauffer at Downton and then fixes her car. She puts two and two together and tells him that his late wife, Sybil Crawley, "must have been a very unusual and independent person."
"You can say that again," replies Tom, clearly still missing Sybil.
"As a rule, I don't really warm to their types," she says, meaning aristos like the Crawleys
"I don't believe in types. I believe in people," Tom tells her.
Isobel and Lord Merton (Douglas Reith), a widower who is Mary's godfather, hit it off after meeting at a lunch at Violet's. Walking Isobel home, he tells her that his own marriage wasn't an especially happy one. "I envy you your wonderful memories but I can't pretend to match them," he says. Later, he sends her flowers. It looks as if Isobel may have herself a suitor.
Violet, having learned of Edith's pregnancy from her, is now in favor of Rosamund's Switzerland plan. "To keep the child here would be like a permanent Damocles [sword] hanging inches from your head," she tells Edith.
In London, Mary visits Jack backstage at the club where he's performing. "I suppose you're here to say that Lord MacClare [Rose's father] would find the prospect of a black son-in-law preposterous and your father would agree," he says.
Getting off one of the episode's best lines, Mary replies, "To be fair to Papa, he'd find your being a band singer even harder to swallow than your color."
Jacks tells Mary he has decided against marrying Rose because it would just be too difficult with the world as it is. "I don't want to spoil her life. I don't want to watch while people point at her and jeer. I love her. I want her to be happy," he says.
Tom runs into Sarah yet again at Downton, where preparations are in full swing for the annual church bazaar that Lady Cora (Elizabeth McGovern) is overseeing. He introduces Sarah to Cora, who's toting a large planter alongside workers doing the same. "So that's the great Countess of Grantham," says Sarah, sounding surprised.
"Just another beast of burden," jokes Tom.
Having crossed dealing with Rose and Jack off her To Do list, Mary moves on to lunch with Tony. She pleads with him to dismiss Green. "He's done something that you'd find abhorrent," she says, refusing to go into more detail.
Tony, who says he has never much liked Green, agrees to fire him at Mary's behest. "I love you and I believe you," he says. He then tells Mary that he has broken off his engagement. (He became engaged only after Mary turned down his earlier proposal of marriage.) Tony says that, despite Mary's lack of encouragement, he intends to keep pursuing her.
Upon returning with Mary from London to Downton, Anna overhears Carson saying Bates spent the day in York. "What were you up to?" she asks her husband.
"Oh, this and that," he replies evasively.
The next day, as the bazaar gets underway, Robert (Hugh Bonneville) returns early from America, surprising everyone. He says Uncle Harold, who was accused of wrongdoing in the Teapot Dome Scandal, got off lightly, earning only a reprimand. Cora thanks her hubby for coming to her brother's aid and kisses him enthusiastically.
Daisy takes the day off–she's hoping to miss Alfred's planned visit Downton–to see her father-in-law, Mr. Mason (Paul Copley), at his farm. (Daisy wed his son, William, a footman at Downton, on his deathbed during Season Two.) Kindly Mr. Mason tells Daisy that she has resolve things between herself and Alfred. "There won't be too many people that you love in your life, and he's one. You have to say goodbye to this young man," he says.
Edith tells Violet, with whom she's strolling at the bazaar, that she fears she'll never again see her baby daddy, Michael Gregson, who has mysteriously disappeared in Munich. "Sometimes I feel that God doesn't want me to be happy," moans Edith.
"My dear, all of life is a series of problems that we must try and solve. First one, then the next, and then the next until at last we die," says Violet. Heeding her own advice about not examining life too closely, she then cheerfully instructs Edith to get them both some ice cream.
Tony shows up unexpectedly at Downton, having taken the train up from London. He has come personally to tell Mary that–wait for it–Green is dead. Apparently, the evil valet slipped or stumbled near Piccadilly the day before and was hit by a vehicle.
Mary rushes off to share the news with Anna. "The pavement was crowded, lots of people saw it," Mary says of the accident.
Looking toward her husband, Anna murmurs, "That's a relief."
Without mentioning Green's death specifically, Anna later seeks reassurance from Bates that he'd never do anything foolish or risk everything they've built together. "Certainly not. When I do a thing I like to have a very good reason for doing it," Bates says, smiling enigmatically.
Mary's other suitor, Charles, turns up at the bazaar, too. Happy to see him but still preoccupied by Green's death and Bates' possible involvement, Mary presents Charles with a theoretical dilemma: "If you thought a man was involved in a crime or an incident but you didn't blame him, in fact you thought right was on his side, what would you do?" she asks.
"I suspect I would say nothing," Charles says. Ding! Right answer.
Speaking of ringing bells, Molesley manages swing a hammer with enough force to make the gong sound at a Test Your Strength booth at the bazaar, easily showing up much younger footman Jimmy Kent (Ed Speleers). "Well done!" says Baxter as Molesley beams. Do we have another downstairs couple in the making?
The visiting Alfred tells Ivy that he accepts her decision not to marry him. Upon returning from Mr. Mason's farm, Daisy presents Alfred with a basket of pickles, jams and ciders. Alfred makes a stab at beginning a romance with Daisy but she demurs. "I loved you, I won't deny it," Daisy tells him. "But that's done now and it won't come back. It's time for you to go your way and me to go mine." They part as friends.
Mrs. Patmore, who has watched Daisy struggle all year with her feelings for Alfred and her jealousy of Ivy, tells her assistant, "If you were my own daughter, I couldn't be prouder of you than I am now."
The bazaar winds down and all pronounce it a great success. Before leaving, Charles declares himself to Mary. He tells her that he can't stop thinking about her and won't let her put him off without a fight. Mary smiles.
Tony is none too happy to see the two together. "Where have you two been hiding?" he asks.
"In plain sight, where all good tricksters hide," responds Charles.
Tony asks Charles for a lift back to London and Mary volunteers to see the two men off. As the episode ends, Robert watches the trio walk away. Turning to Cora and Violet, he asks with amusement, "What sort of ménage has that turned into while I've been away?"
Do you think Bates was in any way involved in Green's death? 
See More:
'Downton Abbey' Season Three Recaps 
'Downton Abbey' Gets Renewal for Fifth Season
'Downton Abbey' Quiz: Are You Upstairs or Downstairs?

Read More
Filed Under: