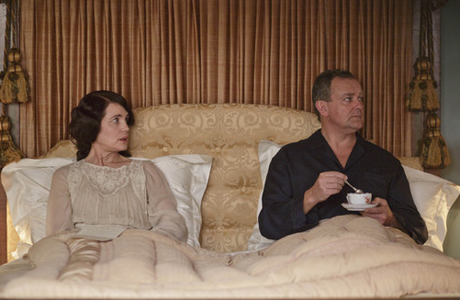 It is busy, busy, busy both upstairs and downstairs at Downton Abbey in Season Four's sixth episode. There are arrivals and departures, several possible romances brewing, an abortion contemplated and Downton's oldest resident, the Dowager Countess, takes ill, as do its newest residents, a bunch of pigs.
Departing is Robert Crawley (Hugh Bonneville), who's grudgingly off to America after being summoned by wife Cora's mother. She wants Robert to come to the rescue of Cora's reprobate brother, who is involved in financial chicanery and is being investigated by the Senate back in the U.S. (Viewers have yet to meet Cora's bro, though we know from news reports that he'll be played by Sideways' Paul Giamatti.)
There's a contretemps about whether John Bates (Brendan Coyle), who is Robert's valet, will accompany him across the pond. Bates doesn't want to leave his wife, Anna (Joanne Froggett), who is still emotionally fragile after having been raped in an earlier episode. Robert is persuaded by Lady Mary (Michelle Dockery) to let Bates stay at Downton. Mary intercedes after housekeeper Mrs. Hughes (Phyllis Logan) confides in her about Anna's rape.
Mary suggests to her father that he bring along scheming Thomas Barrow (Rob James-Collier) instead. She has obviously twigged to the fact that Thomas is gay, telling Robert that their longtime retainer will enjoy the voyage over with "all those handsome stewards strutting down the boat deck."
Robert is shocked. "What do you know of such matters?" he asks.
"I've been married; I know everything," Mary replies tartly.
The entire Crawley contingent lines up to see Robert off, including the Dowager Countess (Maggie Smith). "Ah, the arrival of the pigs and the departure of their master," she says, adding, "Are the pigs a good idea?" She's referring to the experimental herd of swine that Mary and chauffer-turned-widowed son-in-law Tom Branson (Allen Leech) are taking delivery on at Downton. The two hope that the porkers will provide a new source of income for the estate.
Lady Cora (Elizabeth McGovern) tells her departing hubby, "Oh, my darling, I do think your going to rescue my hopeless brother is an act of real love. And I cherish you for it." They kiss and Robert is off, accompanied by Barrow.
Mary and disapproving houseguest Charles Blake (Julian Ovenden), who is conducting a government study on why so many great estates are failing, continue to snipe at each other. Mary argues that aristocratic landowners should be able to continue their privileged avoidance of actual toil while Charles contends, "A farmer's life is hard work and the owners must face up to that or they don't deserve to keep what they have."
Lady Edith (Laura Carmichael), who's secretly pregnant with a baby fathered by her still missing beau, Michael Gregson, heads to London for an abortion. Cousin Rose (Lily James) accompanies her, claiming that she wants to "see some old friends," but really planning a rendezvous with African-American bandleader Jack Ross (Gary Carr).
The Dowager Countess starts coughing and takes to her bed with a fever. Having dropped by, Isobel Crawley (Penelope Wilton) sees how sick Violet is and fetches Dr. Clarkson (David Robb). He confirms that Violet is in a bad way–she has bronchitis–and Isobel switches into professional nurse mode and devotedly tends to her nemesis 24/7.
Word comes that Alfred Nugent (Matt Milne), the recently departed footman who's in London training to be a cook at the Ritz hotel, is planning to stop by the servants' quarters at Downton while in the nabe to visit his ailing father. Mrs. Hughes and cook Mrs. Patmore (Lesley Nichol), afraid this will cause even greater dissension between romantic rivals Ivy (Cara Theobold) and Daisy (Sophie McShera), enlist Mr. Carson (Jim Carter) to use subterfuge to keep Alfred away. Mrs. Hughes instructs Carson to tell Alfred that Downton is a hotbed of flu and he'd likely get sick if he visits. "You're quite a plotter, aren't you?" Carson asks her.
"It's a skill all women must learn," Mrs. Hughes replies, sounding downright saucy.
In London, Jack and Rose make a cozy twosome in a rowboat. He is hesitant about pursuing their relationship, asking (with actor Carr demonstrating a noticeably shaky American accent), "What can we hope to come out of all this?"
Rose has no such doubts. "Viva la difference!" she tells him, and then orders him to kiss her, which he does, with enthusiasm.
Edith is having a heart to heart with her Aunt Rosamund (Samantha Bond), who knows that her niece spent a night with Michael. Edith tearfully tells her that she is pregnant and plans to have an abortion. Rosamund say that she'll support her whatever she decides and is sure that Edith's parents will, too. "That sounds like a speech from The Second Mrs. Tanquery but you don't mean a word of it," says Edith. (That clicking sound you hear is millions of viewers Googling The Second Mrs. Tanquery. It's a 1893 play by Arthur Pinero about a woman with a, ahem, colorful past.) Rosamund tells a tearful Edith that she's coming with her to the doctor's.
Tom heads into town to hear a political speaker. He ends up sitting next to an attractive young woman in a cloche hat. Afterward, when she asks about his political leanings, he tells her, "I'm not sure what I am except a man in search of a better world." Hearing his accent, she asks if he plans to return to Ireland. He says no. They part ways without exchanging names but here's betting that she turns up again.
Mary and Charles, dressed in evening clothes, take a postprandial stroll down to the pigpens to see how the new swine are getting along. The little piggies, living up to their natures, have kicked over the water trough in their eagerness to drink and are now facing imminent death due to dehydration. Charles immediately sizes up the situation and swings into action, fetching buckets of water and wading knee deep into the muck to rescue the pigs. Confounding his expectations, Mary joins him, manning the pump and wading into the muck, too.
When the pigs finally are stabilized, Charles tells an exhausted Mary that she can head home and he'll stick around to make sure the hogs are all right. "I'm not going. They're my pigs," she says stubbornly. (Someone needs to Auto-Tune a clip of Mary saying that phrase and post it on YouTube.)
Having reached a rapprochement, the two engage in a friendly mud fight. They return to Downton in the wee hours, where Mary whips up eggs in the downstairs kitchen. "I can scramble eggs. That's about it," she says in response to Charles' surprised expression. She thanks him sincerely for rescuing the pigs: "You completely saved our bacon, literally."
If these two aren't meant for each other, then pigs can fly.
Back in London, Edith and Rosamund visit the abortion doctor's office. In the waiting room, Edith tells her aunt that she loves Michael and would have loved to have had his baby. "But I don't want to be an outcast. I don't want to be some funny woman living in Maida Vale [an area in London] that people talk about. Sybil might have brought it off but not me," she says. She changes her mind about having the abortion when she spots an emotionally distraught patient, one who has seemingly just undergone an abortion, crying as the doctor tries to comfort her. Edith and Rosamund hightail it out of the office.
Despite Carson's best efforts, Alfred shows up at Downton Abbey. Ivy tells him he's been missed. "If I thought you meant that, I'm not sure I could go," says Alfred, still love struck.
Mrs. Patmore, watching Daisy's distressed reaction to Alfred's remark, predicts "tears and heartbreak will flavor my puddings for weeks to come."
Violet is finally on the mend. She was delirious during much of her illness and is unaware that Isobel was her devoted nurse. "Would you please take that mad women with you?" she asks Dr. Carson, meaning Isobel. The physician tells her that Isobel was by her side for 48 hours straight. Hearing that, Violet faux politely consents when a visiting Isobel proposes playing cards together during what she promises will be a long encore visit that evening.
"You'll be rewarded in heaven," Dr. Clarkson tells the Dowager Countess after Isobel leaves.
"The sooner the better," she responds.
Lord Tony Gillingham (Tom Cullen) is back at Downton for a visit and he has brought along his evil valet, Green (Nigel Harman). It was Green who raped Anna, though only she and Mrs. Hughes know he's the one. She nearly gasps out loud upon catching sight of him. Bates, who has long suspected Green, notes her reaction but says nothing.
Mary greets Tony warmly. He's clearly still carrying a torch for her (despite his recent engagement), making for a trio of men sweet on Mary  all gathered under Downton's roof for the evening. There's Tony and Charles and nice but uncharismatic Evelyn Napier (Brendan Patricks). When Evelyn later tries to hint to Mary that he's fond of her, she quickly cuts him off and wanders away.  As for Charles, he may not know yet that he's falling for Mary (and vice-versa, I'm guessing), but he has certainly changed his tune regarding her aristocratic lassitude. When Tony, an old buddy who served with Charles during World War I, asks him what he thinks of the Crawleys' chances of holding on to Downton, Charles says, "I'd say they're bright. At least Lady Mary and the family mean to give it everything they've got."
Back downstairs, Mrs. Hughes confronts Green. "I know who you are and I know what you've done," she tells him.
Weasel that he is, he replies, "We were a bit drunk that night, Anna and I. We were both to blame."
Mrs. Hughes calls him on his lie and minces no words telling him what she thinks of him.
As the episode ends, an unrepentant Green is shooting the breeze with the other servants. He recalls his last visit to Downton, mentioning that he wasn't a fan of opera star Nelly Melba's private recital and fled downstairs to get away from her screeching. Bates, who knows that this exactly fits the time frame when Anna was raped and location, starts staring daggers at Green. If he had an actual dagger, it would be buried to the hilt in Green's chest.
What was your favorite scene in this episode?
See More:
'Downton Abbey' Season Three Recaps 
'Downton Abbey' Gets Renewal for Fifth Season
'Downton Abbey' Quiz: Are You Upstairs or Downstairs?

Read More
Filed Under: