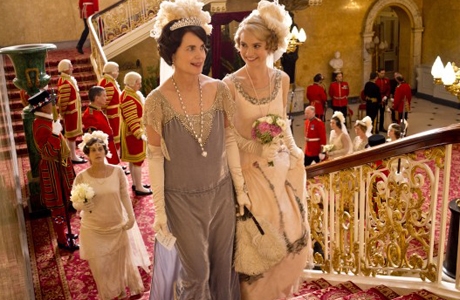 What a difference a year makes. Remember the bummer of last year's final episode of Downton Abbey, when viewers were left in shock and tears as Matthew Crawley died in an auto accident just hours after the birth of his first son and heir? Happily, this fourth season's finale contained no deaths and concluded on a far more upbeat note. Thank you Downton creator and writer Julian Fellowes for not punching us in the gut again.
The special 92 minutes whoop-di-doo episode begins 8 months after Episode 7. It's now Summer, 1923 and pretty much the entire Crawley clan and the servants have relocated temporarily from Downton Abbey to Grantham House in London. Everyone is busily preparing for Cousin Rose's (Lily James) presentation to the King and Queen and her debut ball.
Before heading to London, Lady Edith (Laura Carmichael) mopes around Downton Abbey, tired and unhappy. She's back from Switzerland, where she secretly had her illegitimate baby girl and left the infant to be raised by adoptive parents. Only her grandmother, Violet (Maggie Smith),  and Aunt Rosamund (Samantha Bond), know. She still has no definitive word on what has happened to Michael Gregson, her baby daddy, though Edith has learned that he was in a fight with some nascent Nazis on his first night in Munich and hasn't been seen or heard from since.
At Grantham House, they're gearing up for the arrival from America of Lady Cora's (Elizabeth McGovern) bossy mother, Martha Levinson (Shirley MacLaine), and playboy brother, Harold (Paul Giamatti). Lady Mary (Michelle Dockery) throws attitude about their visit. "Don't be ashamed of my mother, Mary. She's your grandmother, too," scolds Cora.
Rose goes to a London nightclub with a friend, Madeleine Alsop (Poppy Drayton). There, they run into Madeline's father, Lord Aysgarth (James Fox), who's dining with the Prince of Wales (Oliver Dimsdale) and the Prince's married mistress, Freda Dudley Ward (Janet Montgomery). The future King Edward VIII turns out to know Rose's father–"Good old Shrimpy," he says fondly–and invites Rose and Madeleine to join his table.
Mary, a none too merry widow since Matthew's death, is still being pursued by a pair of suitors: Lord Anthony "Tony" Gillingham (Tom Cullen) and Charles Blake (Julian Ovenden). Charles seems to have the edge, but Mary is concerned that he's too much a man of the people. "What new scheme are you working on to beat down the upper classes?" she only half-mockingly asks him as they attend an art exhibit.
"You think me much more a Robespierre than I am," he replies.
Cora has instructed Mr. Carson (Jim Carter) that, once all the dinners and parties are over, the butler is to take all the servants on an outing, pald for by her and Lord Grantham, as thanks for the staff's hard work. Carson considers various options, all boring and highbrow.  "And this is a fun day, is it?" housekeeper Mrs. Hughes (Phyllis Logan) asks pointedly.
Back at Downton, former chauffer turned widowed son-in-law Tom Branson (Allen Leech) holds down the fort before heading to London, too. He runs into attractive local schoolteacher Sarah Bunting (Daisy Lewis), with whom he has a passing acquaintance, and invites her to dine with him at a pub in the village. She then prods Tom to give her a tour of Downton Abbey and he reluctantly agrees. Under butler Thomas Barrow (Rob James-Collier), already resentful of having to serve former colleague Tom and call him Sir, spots Tom showing Sarah around the upstairs gallery and makes his disapproval obvious.
Back in London, Robert tells Cora that he wishes Tom had arrived already. "It's so nice to hear you say that," Cora coos, happy that her aristocratic husband has come so far in accepting their commoner, Irish son-in-law.
"No, he's bringing Isis," Robert clarifies, naming his dog, whose rear end we see during the opening credits of every show. "I do miss her."
At a party at chez Crawley in London, Aunt Rosamund arrives with Terence Sampson (Patrick Kennedy) in tow, to everyone's dismay; he's the cheating cardsharp who visited Downton Abbey in an earlier episode. Also at the fete is Freda, the Prince's mistress, who has become palsy-walsy with Rose, and Lord Aysgarth and daughter Madeleine. The elderly lord instantly sets his own sights on Martha, pegging her for a moneybags, and pushes his daughter on Harold. "I'm used to fathers wanting me to dance with their daughters," Harold ungraciously tells Madeleine. When the others get up to dance, Sampson discreetly rifles through a purse that a woman guest left behind at the table.
Mrs. Hughes is collecting used clothing to give to a church that's helping Russian refugees (from the Revolution?). Lady's maid Anna Bates (Joanne Froggatt) donates her husband John Bates' (Brendan Coyle) old overcoat. Mrs. Hughes finds a train ticket stub that Bates left in a pocket. The stub indicates that he traveled to London on the day that Green, the visiting valet who raped Anna in an early episode this year, died after being struck by a motor vehicle on a busy London street. Did Bates indeed cause the man's death and is this the proof?
Mrs. Hughes goes to Mary and turns Bates' ticket stub over to her. "If he was there to avenge his wife's honor, I won't condemn him for it," the housekeeper says. Mary is undecided whether she's as forgiving, given that a man, even a lousy, no-good rapist, is now dead.
Rose is successfully presented to King George V and Queen Mary at Buckingham Palace. Harold, not one to stand on protocol, asks if he might meet royal couple. Violet tells him to steer clear: "His Majesty is not an admirer of the New World," she warns. Undeterred, Harold takes a stab later at introducing himself to a startled Prince of Wales, who is immediately whisked away by a functionary.
Freda, the Prince of Wales' mistress, is upset. A letter from the Prince is missing from her handbag. "If it falls into the wrong hands…" she moans to Rose. (Downton creator Fellowes is sticking to history here; Edward wrote a number of indiscreet missives to Freda, several of which have come to light in recent years.)
Later that evening, Rose tells Robert about the missing letter. He's quick to grasp that Sampson was the thief and will use the letter either to blackmail the Crown or sell it for money. "I'm a monarchist and that is why I'd like for the letter to be retrieved and not to know its contents," Robert says. He hatches a cloak and dagger plot involving luring Sampson to Grantham House for a poker game while Mary and Rose go to his apartment, show Sampson's landlord a forged note giving them permission to enter, and then steal the letter back.
Edith is having second thoughts about having left her baby in Switzerland. She tells Rosamund she believes that Michael is dead and that his daughter deserves to inherit his estate. Rosamund orders Edith to let the baby go. "This is for the best. If you'll only keep silent, there'll be other loves and other children. Don't cheat yourself of that," Rosamund tells her niece.
Martha, Harold, Violet, Lord Aysgarth and Madeleine all head to the Albert Memorial for a picnic. Aysgarth assiduously butters up Martha but she's wise to his game. After watching Martha adroitly parry Aysgarth's verbal advances, footman Jimmy Kent (Ed Speleers) observes, "The old lady treats his Lordship like a bad smell."
Meanwhile, Madeleine and Harold conduct an amusing anti-courtship. They actually tell each other the truth rather than hiding behind social politesse. When she makes it clear she's no gold digger, he tells her admiringly, "You're better than your father, Miss Alsop." She tells him he's not really the devil-may-care playboy he pretends to be.
Scheming Thomas, newly arrived at Grantham House, sidles up to Robert to tell him about Tom bringing a female guest to Downton Abbey while the family was away. He casts the incident in the worst possible light. "When the family's honor is concerned, I feel that it is my business," Thomas says, making like an obsequious Uriah Heep. Robert later asks Tom about Sarah's visit; Tom insists to his father-in-law the incident was innocent.
Carson continues to suggest possible sites for the staff to visit on its day off, each suggestion even worse than the last. Mrs. Hughes tacks a postcard showing the beach to the downstairs bulletin board, hoping Carson will pick up on the clue.
Scheming Thomas puts pressure on Baxter (Raquel Cassidy), Cora's lady's maid, to tell him house gossip, particularly about what's going on between Anna and Bates. Footman Molesley (Kevin Doyle), her new white knight and champion, comes to her rescue yet again, warning her against making a bad decision.
Also downstairs, Harold's valet, Ethan Slade (Michael Benz), a chipper and garrulous Yank, has taken an instant shine to assistant cook Daisy Mason (Sophie McShera). After his boss wolfs down three helpings of Daisy's kedgeree, Ethan proposes that she come to America to cook for Harold.
Mary and Rose recruit Charles to help search Sampson's apartment for the purloined letter. Sadly, they come up empty. Returning home to Grantham House, Mary shakes her head to indicate to Robert that they failed. Robert calls an end to the poker game.
Bates, who was also in on the plan, helps the departing Sampson don his coat, covertly lifting the letter out of the scoundrel's inside breast pocket. After Sampson leaves, Bates hands the letter to Robert, who turns it over to Rose to return to Freda. "Mr. Sampson appears to have dropped it and Mr. Bates picked it up. Aren't we fortunate?" says Robert says.
"Fortunate is one word for it," Mary observes dryly.
As Anna is helping her undress for bed that night, Mary tells her, "A crisis for the monarchy has been averted. Though given [Edward's] character, I don't wonder that that there won't be another." (Here's hoping Downton will run long enough to cover his abdication in 1936.) Mary requests that Anna thank Bates for her: "We are so much in his debt." After Anna leaves, Mary tosses the potentially incriminating ticket stub into the fire. (It appears that viewers may never get a definitive answer on whether Bates did or did not kill his wife's attacker.)
Robert and Cora throw a fancy ball for Rose's come-out. The Prince of Wales arrives with Freda, telling the Crawleys he hopes they won't mind if he's a party crasher. "You honor this house with your presence," Cora tells him. The grateful Prince dances the first dance with Rose.
At the ball, Violet asks Tom if he's glad to be attending. "These are your people now. This is your family," she says.
"This may be my family but these are not quite my people," he replies, gesturing at the assembled stuffed shirts.
The former chauffer then asks the Dowager Countess to dance. Accepting, Violet jokes, "I know I can trust you to steer."
Martha turns down a proposal of marriage from Lord Aysgarth. He's shocked. "Don't you want to be Lady Aysgarth?" he asks plaintively.
She bluntly tells him no. "I don't want to spend my days with people who think me loud, and opinionated and common. I think they are narrow, pompous and boring," says Martha.
Harold and Madeleine dance. They have come to regard each other fondly. It's not quite a romance but there's promise in the air. "Will you write and tell me how thing's are going?" Harold asks.
"I shall be delighted," she replies. Might we see the two of them next season?
Tony and Mary take a break from dancing for a private conversation. Tony wants to know where he stands vis-à-vis Charles, his rival for Mary's romantic affections. She says she's not making any decisions yet. Tony then proves himself a stand-up guy or, as the show would have it, a true gentleman when he tells Mary that Charles is actually in line to inherit a baronage along with a massive estate in Ulster. "Charles has always played it down. But, in fact, he's going to be a lot more eligible than I am," Tony says.
Mary remains undecided about committing to either man but is ready to at least think about moving forward. "A year ago, I thought I'd be alone forever, that I would mourn Matthew to the end of my days. Now I know that isn't true, that there will be a new life for me–one day," she says. Tony clasps her hand in his.
Lord Merton (Douglas Reith), who has been quietly wooing Isobel Crawley (Penelope Wilton) since meeting her eight months, shows up at the ball and asks her to waltz. She begs off, saying, "I'm really not much of a dancer.
"Nor I, so we're a perfect match," her persistent suitor replies, taking her in his arms and leading her onto the dance floor. Violet, who introduced the two, looks on approvingly.
Violet and Martha, never fond of each other, run into one another in an upstairs hallway and trade insults. Martha tells Violet she turned down Lord Aysgarth's proposal. "I have no wish to be a great lady," she says.
"A decision that must be reinforced every time you look in the glass," Violet offers.
Martha shoots back, "I don't mind looking in the mirror because what I see is a woman who's not afraid of the future. My world is coming nearer and your world is slipping further and further away." Snap!
As the ball winds down, below stairs a weary Carson is struck by inspiration. "I wonder if we should just settle for a day by the sea?" he asks Mrs. Hughes.
"Well, thank heaven you got there in the end," she says.
When Mary and Tony reenter the ballroom, Charles takes his turn dancing with her. Later, the two take a walk in the early dawn light. Mary asks why he never told her about his possible title and inheritance. "At first I didn't want you to assume that I shared your prejudices because I came from a similar background," he says. "And later on, I think I wanted to win you by myself."
Mary tells him that Tony told her the news. "I think he wants it to be a fair fight," she says.
"So now let battle commence," says Charles.
Leaving unresolved the Who'll Win Mary plotline is as close as to a cliffhanger as it got in this finale.
Edith returns home to Downton early. She intends to retrieve her infant daughter in Switzerland but first had to arrange a plan to turn the baby over for raising to Tim Drewe (Andrew Scarborough), Downton's newly appointed pig manager and a tenant farmer on the estate. Thus, Edith will be able to watch her child grow up nearby. "We'll treat her like our own. No one but you and I will know," Drewe promises, saying neither his wife nor his three children will know of the baby's origin.
The episode ends with Downton's servants gathered on the beach, enjoying their day by the sea.
Thomas, ever the spoilsport, cozies up to Baxter and says he knows she's keeping information from him. He threatens her yet again with his knowledge of a still unrevealed secret–unrevealed to viewers, that is–from her past. Baxter, newly emboldened by her friendship with Molesley, cuts him off. "You must do what you think best, Mr. Barrow, just as I must," she says primly.
Molesley comes over and sits down next to her on the sand as Thomas skulks off. Baxter thanks Molesley, vowing, "There are things in my past that made me afraid but I'm not afraid anymore. You've made me strong, Mr. Molesley." Molesley beams.
Daisy tells Ethan, the visiting valet, that she's turning down his invitation to come to America. The love struck Yank is disappointed but then kitchen assistant Ivy Stuart (Cara Theobold) volunteers to go in Daisy's stead, an idea that Daisy endorses. As Ethan and Ivy head off across the sand to discuss her new job, Daisy tells head cook Mrs. Patmore (Lesley Nichol) that she was flattered by Ethan's attention but is happy where she is.
Carson and Mrs. Hughes wade to the water's edge. He's fearful that he might get his trousers wet. "You can always hold my hand if it'll make you feel steadier," she volunteers.
"I don't know how, but you manage to make that sound a little risqué," Carson tells her.
"We're getting on, Mr. Carson, we can afford to live a little," she replies. They hold hands and wade into the waves together as Mrs. Patmore and Daisy look on approvingly.
Is this another Super Couple in the making?
Did the finale, and the season, live up to your expectations?
See More:
'Downton Abbey' Season Three Recaps
'Downton Abbey' Gets Renewal for Fifth Season
'Downton Abbey' Quiz: Are You Upstairs or Downstairs?
Read More
Filed Under: