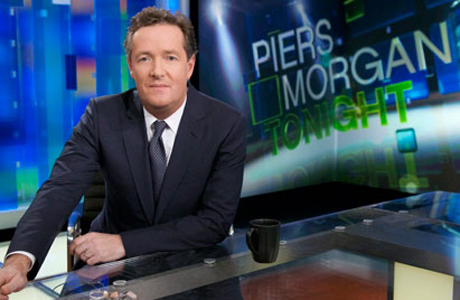 British TV personality Piers Morgan had a good run on CNN but his show, Piers Morgan Tonight, has been canceled, reports CNN.
Morgan took over hosting duties from longtime host Larry King in 2011. King had been on CNN since 1985.
It was a difficult but not impossible task to take over for such a legendary figure but it all comes down to ratings.
Both Morgan and CNN have talked about the show being canceled and credit it to people just not tuning in. Time magazine didn't let him off that easy, listing off a couple of reasons why the show didn't work. Time compares the show's ending to a British murder mystery, with "too many fingerprints" all over it, but it still comes down to ratings. It just wasn't working and there's no one reason.
Morgan talked to The New York Times over the weekend saying, "Look, I am a British guy debating American cultural issues, including guns, which has been very polarizing, and there is no doubt that there are many in the audience who are tired of me banging on about it."
That was Morgan's "straight" answer, but of course the active Twitter user got cheeky with his followers with this update:
Humbling to bring such happiness to so many people today. Coming 3rd, as I've always said, is not a trophy. #MorganOut #CNN

— Piers Morgan (@piersmorgan) February 24, 2014
His show has been canceled but he's not done with the NRA as seen with this Tweet:
I wouldn't get too excited @NRA – I'm not done with you yet. #GunControlNow

— Piers Morgan (@piersmorgan) February 24, 2014
As they do, people are getting kind of nasty on Twitter. But Morgan is keeping a stiff upper lip with sharp, matter-of-fact, responses like this one:
It's 'vacuous' > RT @FinkleFackle @piersmorgan America hates you so buy a one way ticket BACK to London you carpetbagging vacous troglodyte!

— Piers Morgan (@piersmorgan) February 24, 2014
Touche Piers, touche.
The date for the last show has yet to be announced. We have a feeling the episodes counting down the days will be doozies.
Where do you think Piers Morgan will end up next?
See More:
Piers Morgan Talks to Anglophenia About Getting Viewers to CNN
Uh oh! Piers Morgan Takes on Howard Stern
Piers Morgan: "I Could Be the Next Barbara Walters"
Read More
Filed Under: