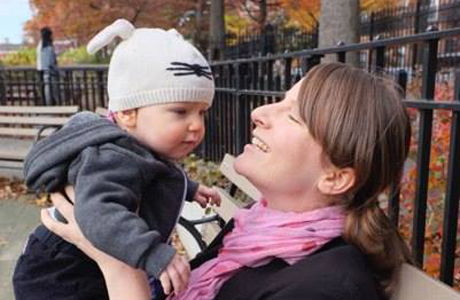 "So, what kind of accent do you think she'll have?" This is a favorite question of curious onlookers to expat parents. I get asked it at least once a week. My stock answer goes something like this: "Erm, dunno. Some kind of horrible hybrid thing, I imagine. Like Lloyd Grossman, or that horse-haired one from Girls." In truth, I have no idea what my nearly one-year-old daughter's burgeoning vocal chords will crank out once they're able to make sounds that include an accent.
And so we move onto: "Will you teach her the "proper" words for things?" Yes, I say, but I won't do it on purpose. We won't have lessons at home with me standing by a blackboard bellowing, "Repeat after me: trou–sers. Pants, my dear, are the things that go underneath your trou–sers." No, it'll just happen because I speak British English, and so does her dad. And so do many hundreds of battery-operated toys her British-based elders got her for Christmas.
The hardest thing about having a baby whose entire extended family lives in a far off time zone is the travel. Pre-third trimester, we used to visit the U.K. three or four times a year. In the last 15 months, we've managed only two trips, and both of those were monstrously hard. None of us slept. "Dream on," said the look our furious baby gave the travel cot we expected her to bed down in for three weeks. "So, here's the deal: I'll be sleeping in your bed for the foreseeable. And mother, you'll be my personal butler and buffet during my eight or nine nocturnal wake ups. Got it? Good." Like I said, monstrous.
And then there's Skype. We're on there every day talking to heavily pixelated grandparents, aunts and uncles. "Doo-doo noo-noo poo-poo!" screeches aunty Ellie, 24, pointing and giggling while her 11-month-old niece imparts a withering look and hammers letter strings into the new window she just thumped into existence. Give the kid a laptop and she's like one of those Shakespeare monkeys. Except, you know, American.
When you have a child in a country that isn't the one you grew up in, you're constantly questioning that decision. How will this little folly of ours play out? If we repatriate at some point, will this mess her up? Will she be teased by her peers—here or back home—for talking/acting/thinking weirdly?
The first birthday is approaching. This presents new challenges and new cultural impasses. Americans go big on kids' parties, right? Crumbs. Honestly, I'm not sure I know how to throw a party for a one-year-old. As a compromise, we're having a do that I hope will radiate a, "This time last year I was in labor and hitting my husband for not being. Glad that whole thing's receding into the distant past!" vibe. Basically, we're going to celebrate by getting tipsy with our mates while our various offspring go about their business underneath a swaying canopy of boozy parents. It's the British way.
Are you a British mum raising your children in the U.S., tell us your story! Join @MindTheGap_BBCA on Twitter (Wednesday, February 12 at 2 pm ET) to discuss the differences between British and American parenting using hashtag #MindTheChat. Tweet your questions for our expert panel, including Carrie Goldman (@CarrieMGoldman), author of Bullied: What Every Parent, Teacher, and Kid Needs to Know About Ending the Cycle of Fear; Susan Newman (@SusanNewmanPhD), social psychologist and author of The Case for the Only Child: Your Essential Guide; and Susan Bartell (@drsusanbartell), psychologist and author of The Top 50 Questions Kids Ask.
See More:
10 Expat Parent Worries and How to Handle Them
Crazy Baby Names and Five Other U.S. Parenting Trends That Will Drive You Crazy
What the U.S. Can Learn From British-Style Parenting
Read More