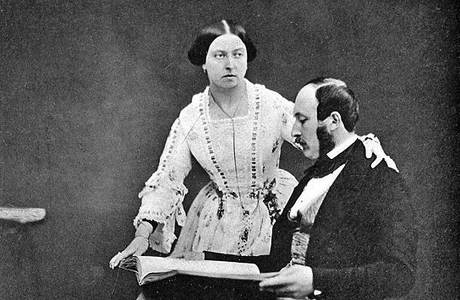 If only Queen Victoria had lived during the age of the selfie. She might have been amused.
A major new photo exhibit, "A Royal Passion: Queen Victoria and Photography", makes clear the queen's passion for photography. It opened on February 4 at the J. Paul Getty Museum in Los Angeles and runs through June 8.
Selfie-enabling smart phones may not yet have been invented during her 64-year reign, from 1837 until her death at age 81 in 1901, but Victoria's time on the throne paralleled the invention of photography and its rise in popularity. The exhibit focuses on how the queen engaged with the new art form and explores the evolution of both photography and the monarchy during the Victorian era.
The show includes official portraits that were meant to showcase an imperial-looking Victoria as the imposing head of the then ever expanding British Empire, as well as refreshingly informal photos of the queen, her beloved husband, Prince Albert, and their nine children. Many of these come from Victoria's personal collection, some of which have rarely been seen and are on loan from the Royal Collection.
Prince Albert posed for the first royal photo portrait ever in 1842, just three years after the first daguerreotypes were presented in France. The royal couple soon built a dark room and learned how to make photographs themselves and, more importantly, began collecting photographs, including subjects of distant lands and battle sites that were part of the British Empire.
Victoria herself began posing for pictures by the 1850s. In one of her earliest portraits, taken with her children, the camera managed to catch her with her eyes closed. In her diary, she wrote that the picture was "horrid" and she scratched her face out of the daguerreotype. Never one to shirk her duty, however, she posed again two days later, this time hiding her face behind a large-brimmed bonnet and turning it sideways.
She soon mastered the art of being photographed and posed for a number of official portraits that were released to the public, including sitting for her Diamond Jubilee in 1897. She also allowed her photographic image to be reproduced on trading cards, tea towels, biscuit tins, etc., thereby promoting both herself and the monarchy.
"As the first British monarch to have her life fully recorded by the camera, Victoria's image became synonymous with an entire age," said Timothy Potts, director of the J. Paul Getty Museum, in announcing the exhibit.
When Queen Victoria died, per her own explicit instructions, photographs were among the personal mementos put into her coffin with her for burial.
An accompanying publication, also called A Royal Passion: Queen Victoria and Photography, includes many of the photos in the exhibit along with explanatory essays and is available for $50 from the Getty.
Does this sound like an exhibit you'd like to see?
See More: 
Five Victorian Things You Can Still Do in London 
British Drinking: Five Great Fictional Pubs
London's Victoria & Albert Acquires Vivien Leigh Collection
Read More
Filed Under: