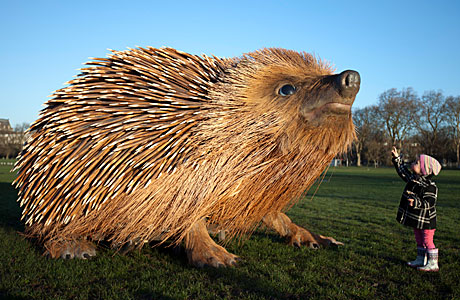 Warning: some of the images attached to this news story may be disturbing (if you have a fear of outsized mammals, or spikes).
A 12 feet long, 7 feet tall hedgehog has emerged on Clapham Common in London, amid scenes reminiscent of a particularly cute Godzilla movie, and begun rampaging around, terrifying toddlers, joggers, and skateboarders alike.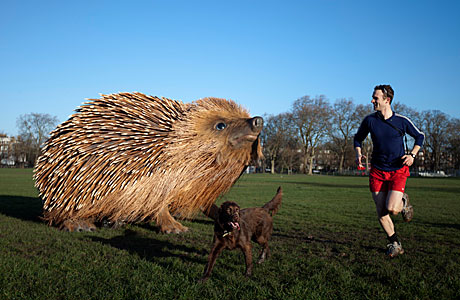 The beast, known locally as Prickly Bob, has been approaching members of the public for help in locating 10 feet long earthworms and other outsized bugs to eat. This, even for a tolerant city like London, has caused no small outcry, but whenever anyone attempted to shoo Bob away from the children (someone was thinking of the children), he merely rolled into a ball, grumbling.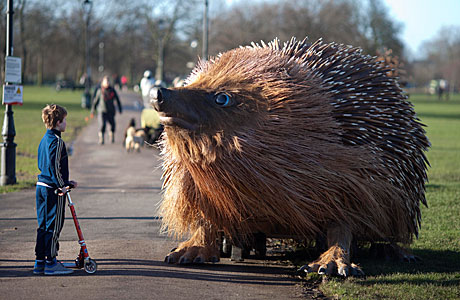 Thankfully, the hedgehog's owners (and creators) turned out to be the UK TV channel Watch, who've unleashed this fearsome, and rather snuggly beast in order to promote a new TV show, fronted by Sir David Attenborough.
Natural Curiosities takes a look at common animals with interesting evolutionary quirks, like the hedgehog's spines.
Here's David explaining what the appeal of this spiky hedgerow companion is:
Which only leaves one question. What exactly do you do with a 12 feet long hedgehog when you're done with it? It's hardly playground material.
See also:
Gigantic Mr. Darcy Invades London
Massive Dragon Skull Found On Dorset Beach
Is The Loch Ness Monster Dead?
Devon Man Rides Colossal Wave On Purpose
Read More
Filed Under: