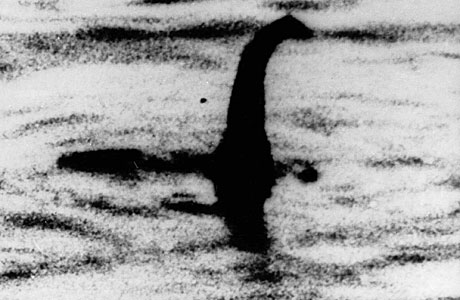 No.
There are a fair few fantastic stories of mythical beasts in the British Isles, and Nessie is justifiably the most famous. There have been more sightings of what appears to be a long-forgotten plesiosaur in the waters of Loch Ness than Black Shuck or the beast of Bodmin moor combined, and some of them have even been captured on film.
However, a slight panic has entered the community of Nessie spotters, who have noted that there haven't been any sightings, dark shadows or suspicious movements in the deep waters of the loch for over 18 months. This has lead to speculation that the monster might not be there.
What? Why are you giggling?
Gary Campbell, Nessie expert, says it's the first time in since 1925 that there has been such a lull in credible sightings. There have been three reports, but they turned out to be a duck, a wave, and somewhere else*, respectively.
He told the Express: "It's very upsetting news and we don't know where she's gone.
"The number of sightings has been reducing since the turn of the century but this is the first time in almost 90 years that Nessie wasn't seen at all.
"Pretty much everyone now carries a camera with them in their smart phone – this allows then to snap what they're seeing and means that we don't just have to rely on eyewitness evidence. As last year has shown, all the pictures and videos taken can prove to the expert eye that it wasn't Nessie that was being filmed."
Which does sort of indicate that… there… might… not… be… a…
Never mind.
So Gary has been logging Nessie sightings for nearly 20 years, and claims that people have been seeing things in the murky waters since 565AD
He explained that while it's worrying, he has faith that she'll soon be back to her old tricks: "So far 1,036 reported sightings have been recorded and there were some in 2012.
"I'm convinced that Nessie has just taken some time out and will be back with a vengeance this year."
Or, as is far more likely given the science of the situation, not-back with a not-vengeance.
* It's not clear if that means there's a monster somewhere else. We'd probably have heard about it if there was.
See more:
Move Over Nessie: Five Mythical British Beasts
Five Alternative Uses For The Cerne Abbas Giant
Is Stonehenge A Musical Infographic?
Five Great Ancient British Landmarks
Read More
Filed Under: