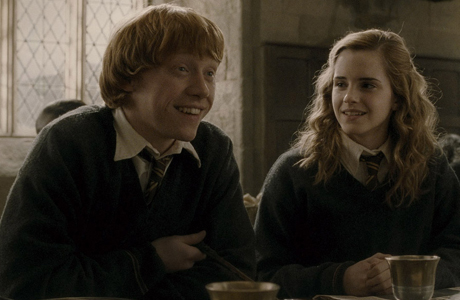 Over the weekend, excerpts from an interview for Wonderland Magazine were released with J.K. Rowling expressing regret in pairing up Hermione Granger (Emma Watson) and Ron Weasley (Rupert Grint) in the Harry Potter books, reports BBC News.
Rowling sat down with actress Emma Watson who acted as a guest editor for the mag saying, "For reasons that have very little to do with literature and far more to do with me clinging to the plot as I first imagined it, Hermione ended up with Ron,"
It's sort of like, what's done is done. Why look back now and shake things up?
Rowling may have predicted the above response saying, "If I'm absolutely honest, distance has given me perspective …"
She explains that she now sees Harry Potter (Daniel Radcliffe) would have been a better fit, challenging Hermione on many levels, but she matched up Hermione and Ron "for very personal reasons, not for reasons of credibility."
Watson chimed in saying, "I think there are fans out there who know that too and who wonder whether Ron would have really been able to make her happy."
When the books came out, yeah, people probably expected Harry and Hermione to get together. But, Rowling made a decision and went a different route. Hmm … maybe the characters would have been better off dating outside of their circle.
The entire interview will appear in Wonderland Magazine, available on Friday, February 7.
What do you think of Rowling's recent revelation? 
See More: 
Lawyer Who Snitched on J.K. Rowling Gets Fined and Rebuked
J.K. Rowling and the Novel of Hidden Authors
J.K. Rowling's Handwritten Notes Up for Auction
Read More
Filed Under: