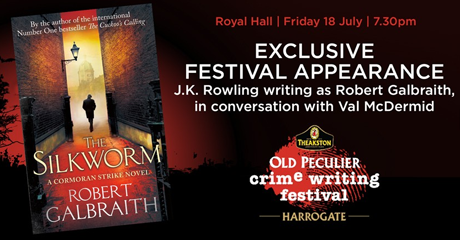 J.K. Rowling enjoyed "channeling her inner bloke" writing under the pseudonym Robert Galbraith, author of The Cuckoo's Calling, that she is going to give it another go with a second crime novel, reports BBC News.
Rowling had successfully submitted her book proposal to her editor David Shelley as Galbraith. From the get go, the famed Harry Potter creator was trying to keep her identity top secret. She went so far as to give Galbraith a back-story, explaining that he couldn't attend public events due to his former military work.
Well, the jig was up when a friend-of-a-friend-of-a-friend (her lawyer's wife's friend to be exact) let the secret out via Twitter. There's the saying that goes something like, "If you don't want anyone to know, then don't tell even one person." We suppose you should be able to trust your lawyer though, considering it's most likely contractual.
After Rowling's identity had been revealed, she released a statement explaining her motivation saying, "As for the pseudonym, I was yearning to go back to the beginning of a writing career in this new genre, to work without hype or expectation and to receive totally unvarnished feedback."
That's completely understandable. It sounds like she wanted to test herself, kind of like, "Can I do this again?"
Rowling appears to be over the fact that her lawyer spilled the beans, and now she's embracing the bloke-ness of writing as a man. It may seem silly to continue to use the pseudonym considering, but it might be a matter of just being consistent with the series. As well, it might be like playing dress up, "I'm Robert Galbraith today and will be writing in a completely different style.
We picture her in a suit and bowler hat at a typewriter. Maybe even with a moustache drawn on with an eyebrow pencil. For some reason, our mental image is set in the 1920s?
The next book, entitled The Silkworm, will come out on June 19, 2014. The story follows the same character from the first book, Private Detective Cormoran Strike. Strike, with the help of his assistant, is in search of a murderer who took the life of a novelist. The novelist's book had sensitive material, which could ruin lives if published.
Rowling will be traveling to North Yorkshire, England this coming summer (July 18) to take part in the Theakstons Old Peculier Crime Festival. She will be discussing her new role as a crime writer at the Royal Hall in Harrogate. Tickets go on sale on Monday, March 17 through the festival box office here.
Have you read the The Cuckoo's Calling? Are you looking forward to the second installment of the series? 
See More:
J.K. Rowling Explains This Whole 'Robert Galbraith' Thing
Lawyer Who Snitched on J.K. Rowling Gets Fined and Rebuked
J.K. Rowling's Handwritten Notes Up for Auction
Read More
Filed Under: