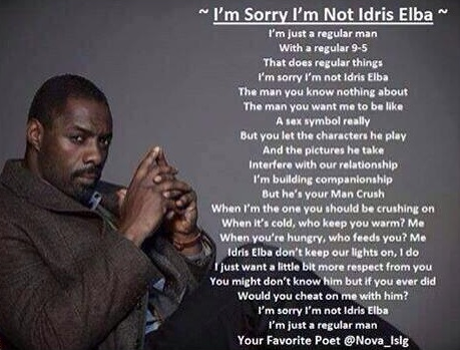 Let's just say it's not too hard being actor Idris Elba these days. But some men are feeling a little intimated by their ladies talking him up so much.
Instagram user Nova_Isig was apparently exhausted from hearing his wife rant about the British actor and posted a poem entitled, "I'm Sorry I'm Not Idris Elba." The writer starts off by saying, "I'm just a regular man, with a regular 9-5, that does regular things, I'm sorry I'm not Idris Elba …"
He wants his missus to be crushing on him and not Elba.
The poem has been seen by many, including Elba himself. And what did the Luther star have to say in response? He let the "selfie" do the talking: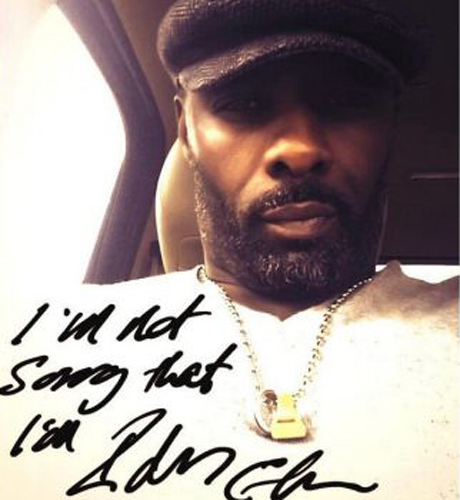 Other boyfriends and husbands have jumped on the "I'm Not Idris Elba" bandwagon and have been showing off their strong suits via Twitter:
Idris Elba ain't help you look for your phone for 20 min even tho it was just in your purse like it always is. I. Did. That.

— Ol' QWERTY Bastard (@TheDiLLon1) February 18, 2014
Idris Elba didn't walk with you to Macy's, Bakers, Sears, then back to Macy's cause you liked that one blouse better. Price did.

— Everyday Low Price (@PriceAintRight) February 18, 2014
Idris Elba ain't give you the password to his netflix account…that was all me.

— Not Myron Fletcher (@eerpuD_sI_epoD) February 18, 2014
Wow, Elba really does have an impact and not just on television and movie watchers. Women everywhere are getting a reminder of how their men do care for them and help them and, well, umm, the actor doesn't. Take it for what it is.
Do you think women want life to be like it is in the movies? Can it be! 
See More:
Idris Elba Creates a Global Man Panic 
Idris Elba: "Don't Call Me The Black James Bond"
Idris Elba Cradles Julia Roberts on Vanity Fair's Hollywood Issue Cover
Read More
Filed Under: